commision@auraaerosole.de
what commissions do you take?
whether it's a private wall in the garden,
a social media corporate campaign
or a completely individual canvas
for the living room at home,
there are basically no limits to creativity.
feel free to send me your wishes and ideas
for an individual commission
and we will see together
what is possible to implement.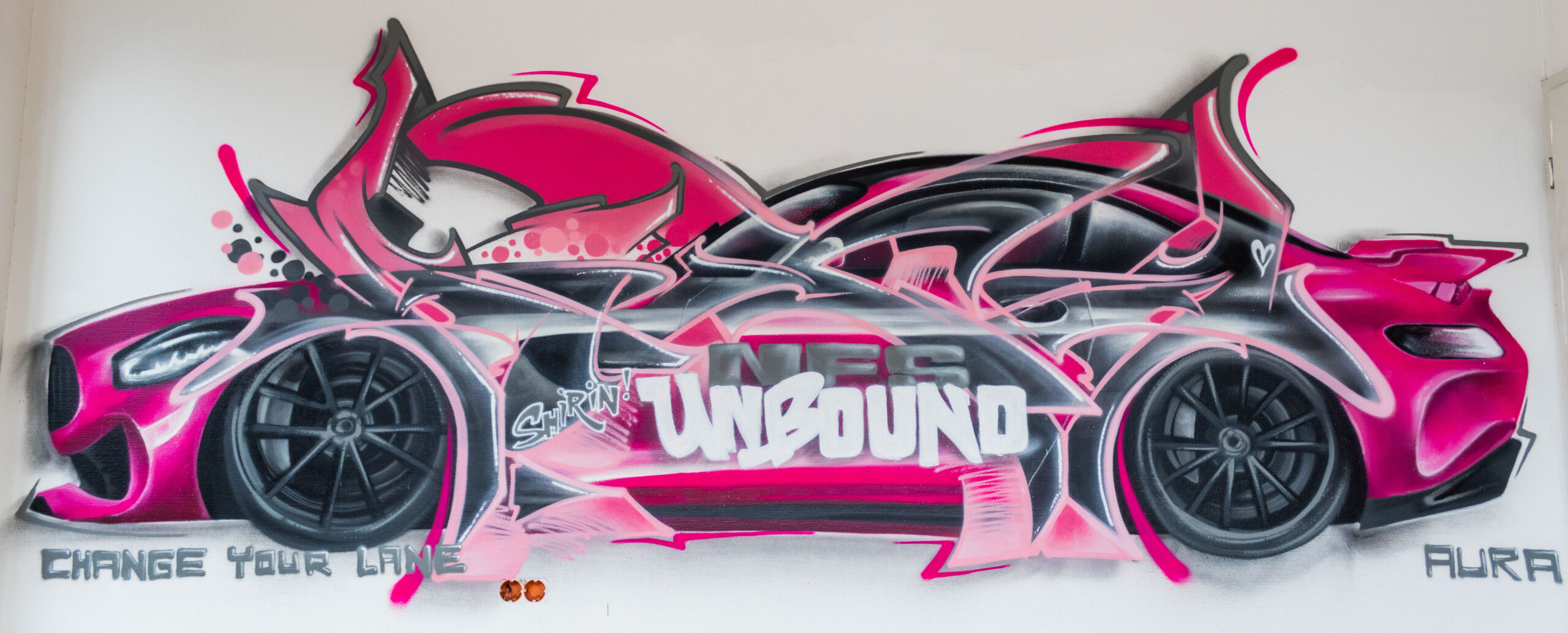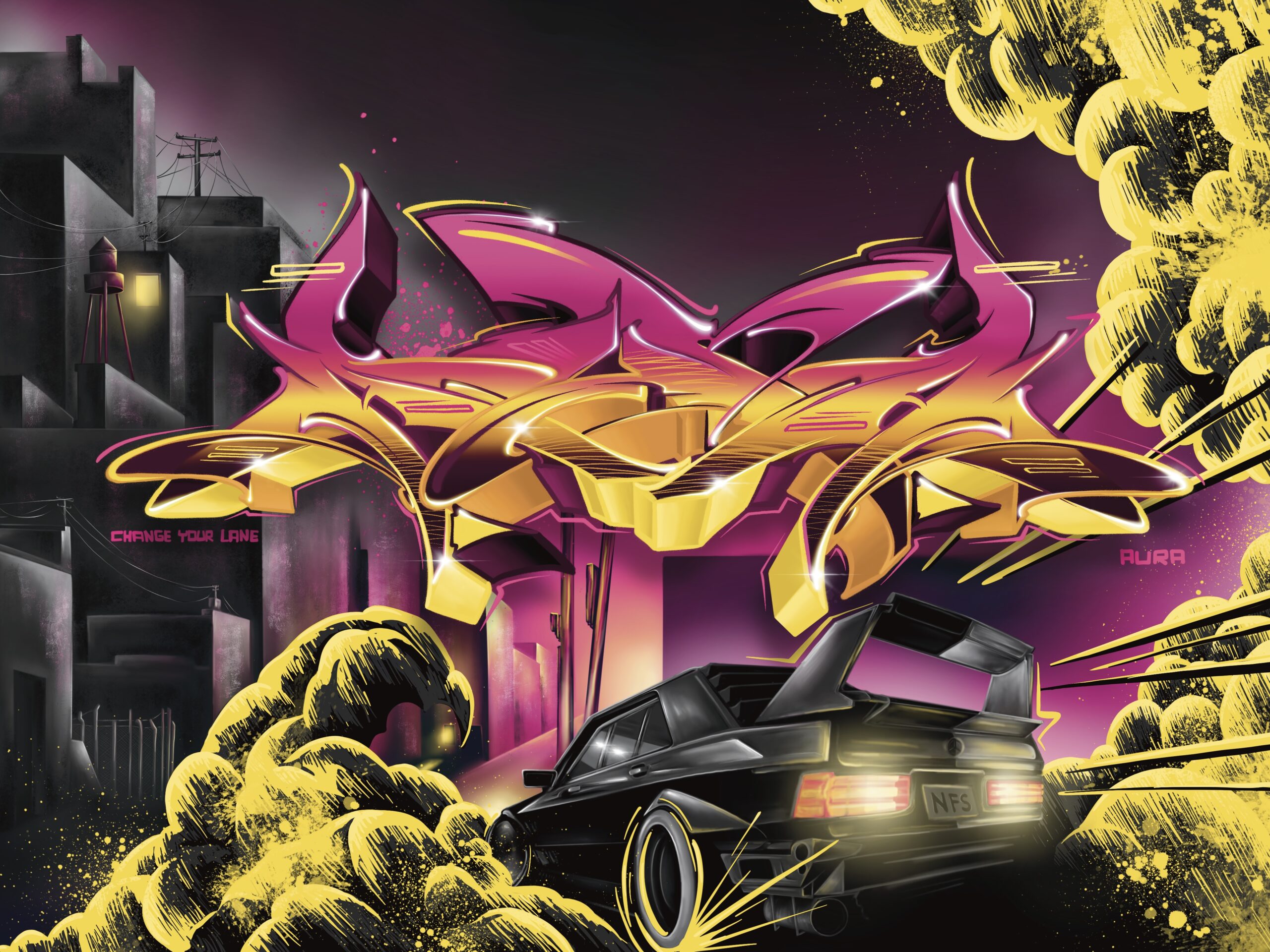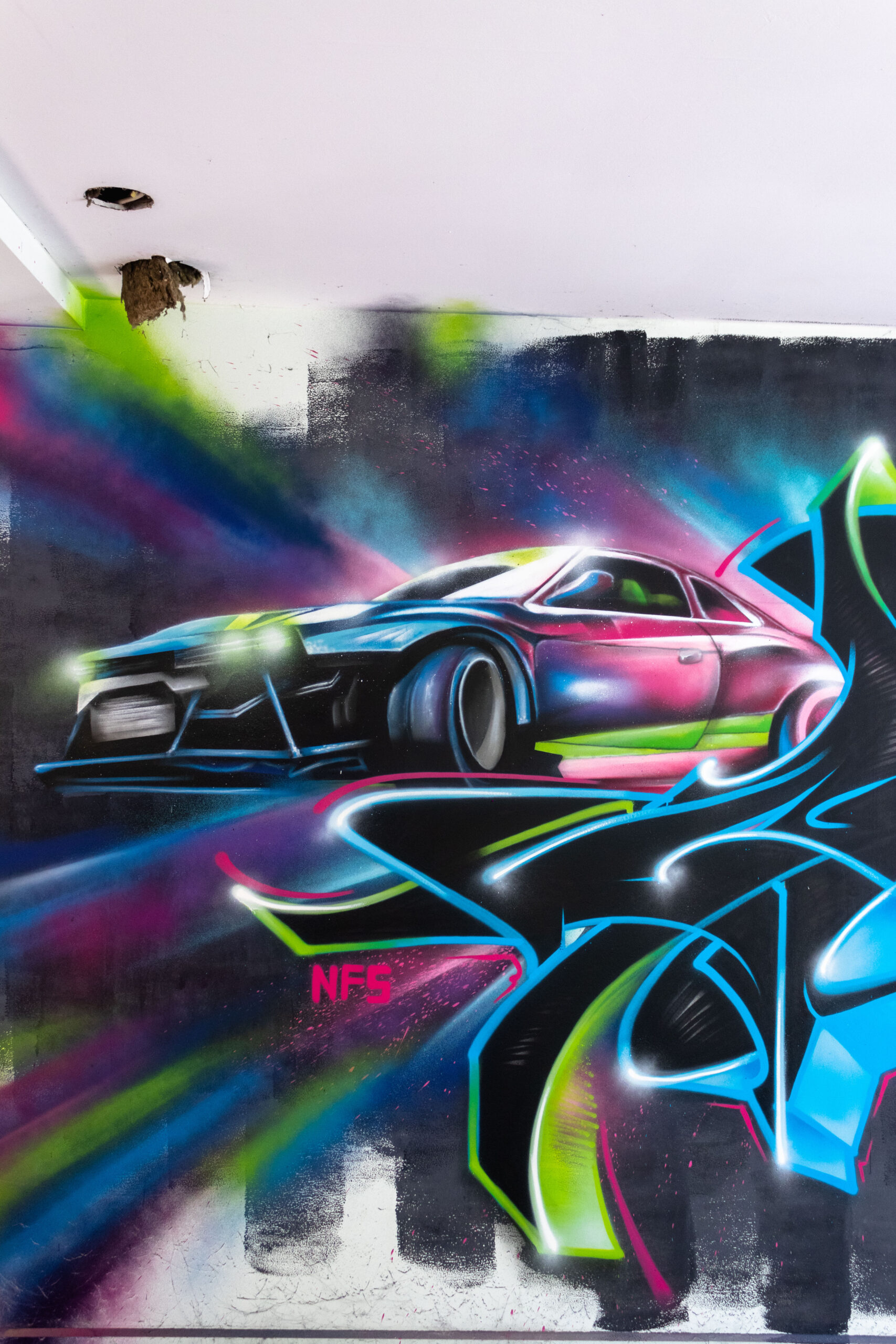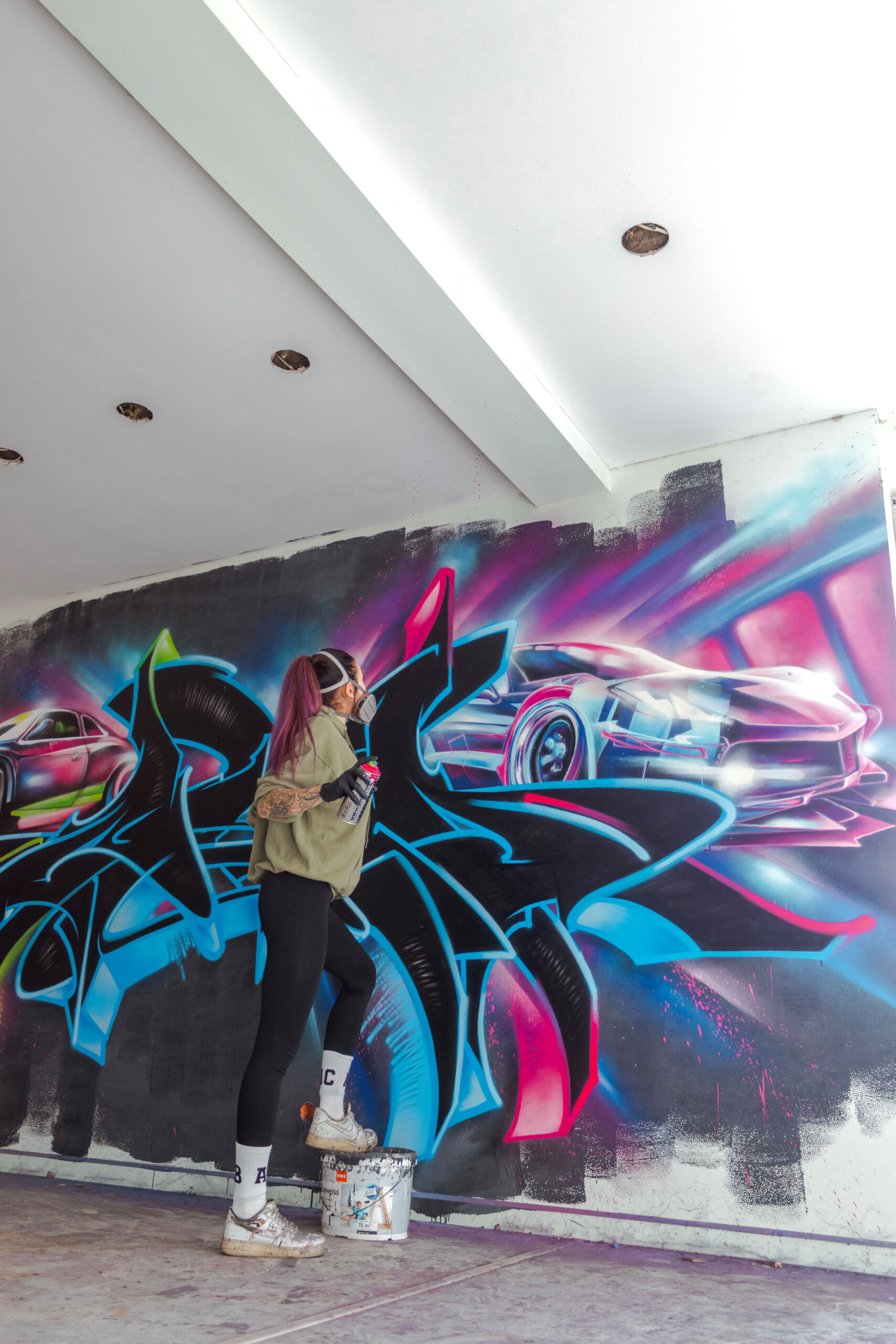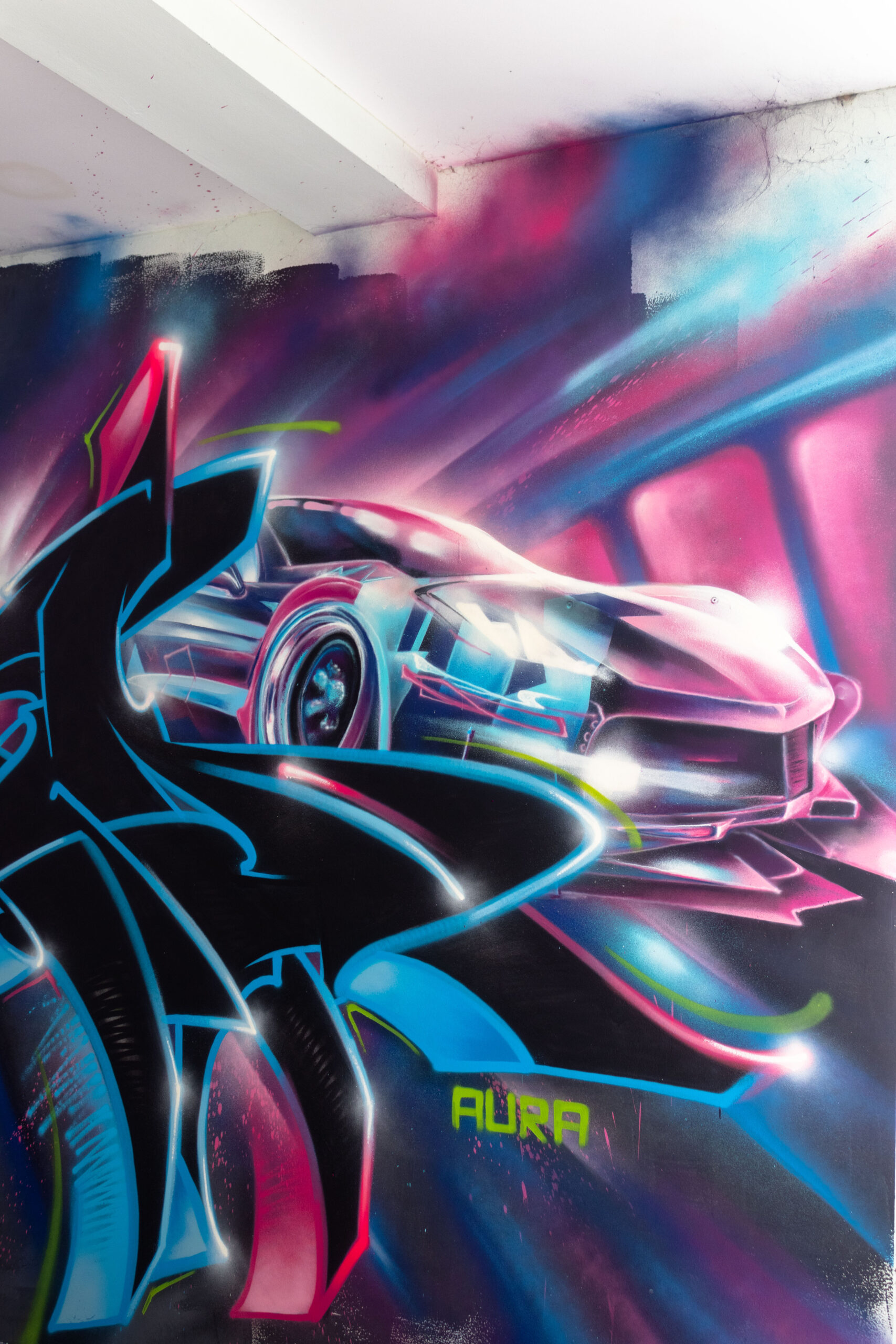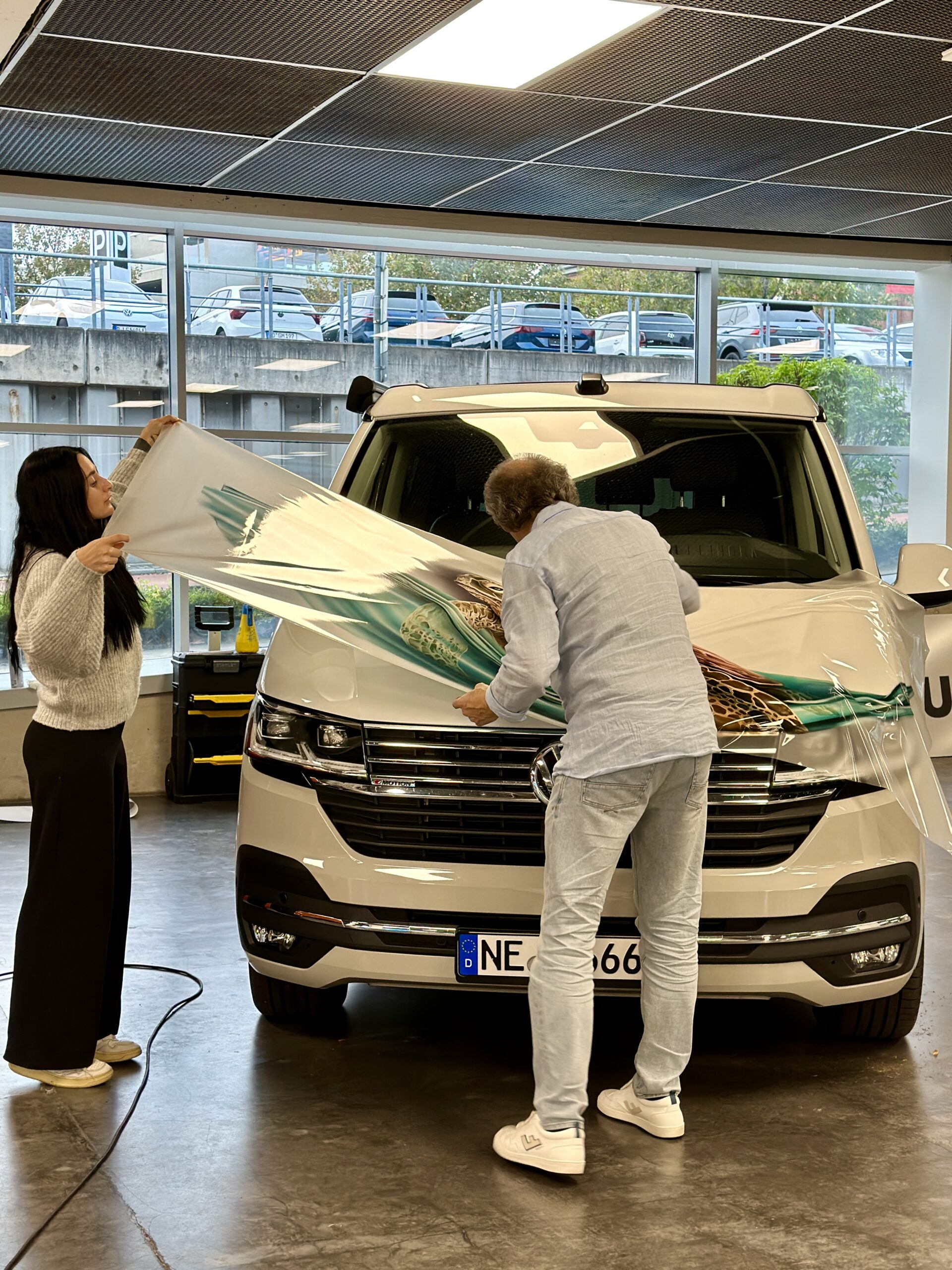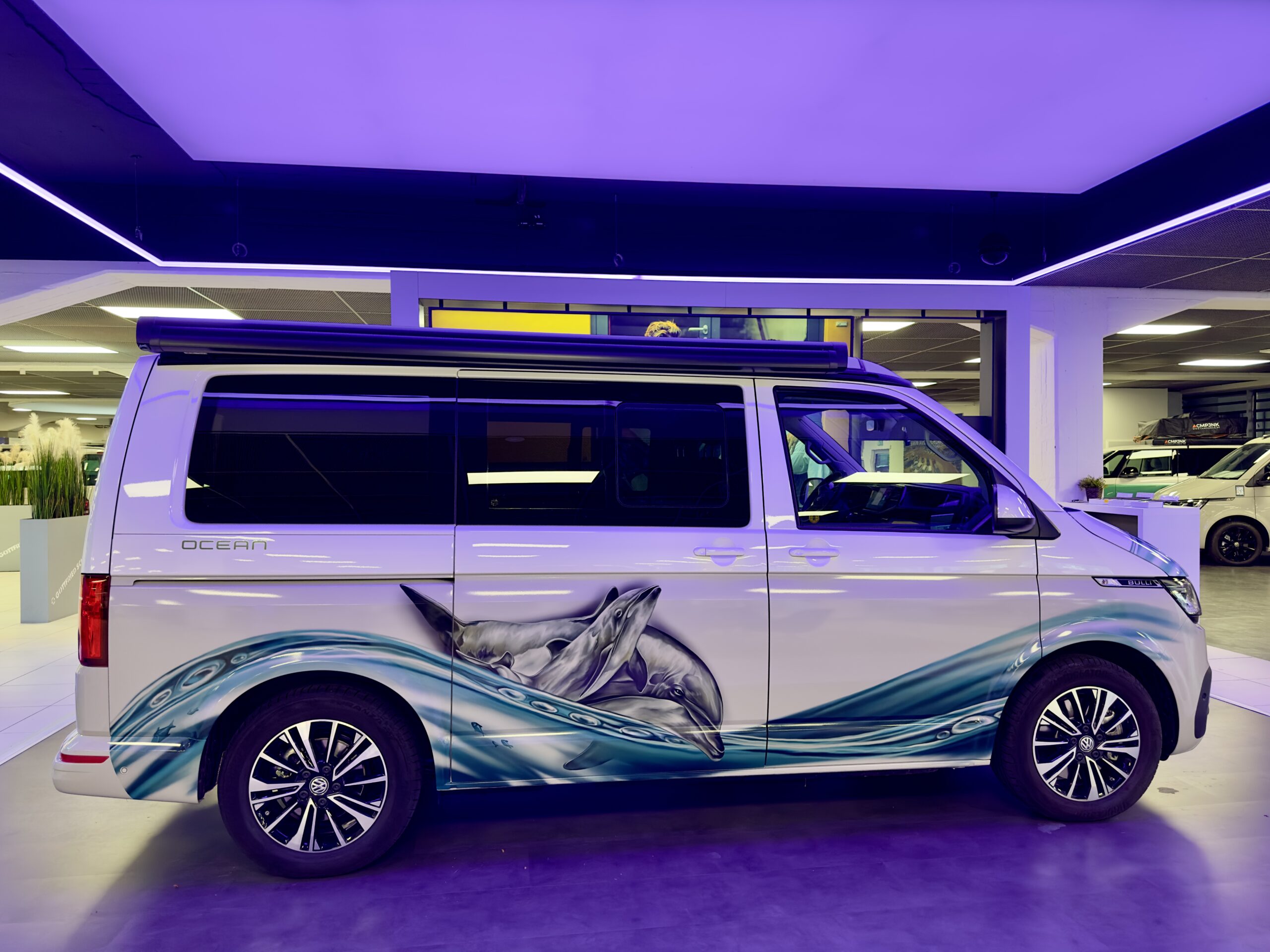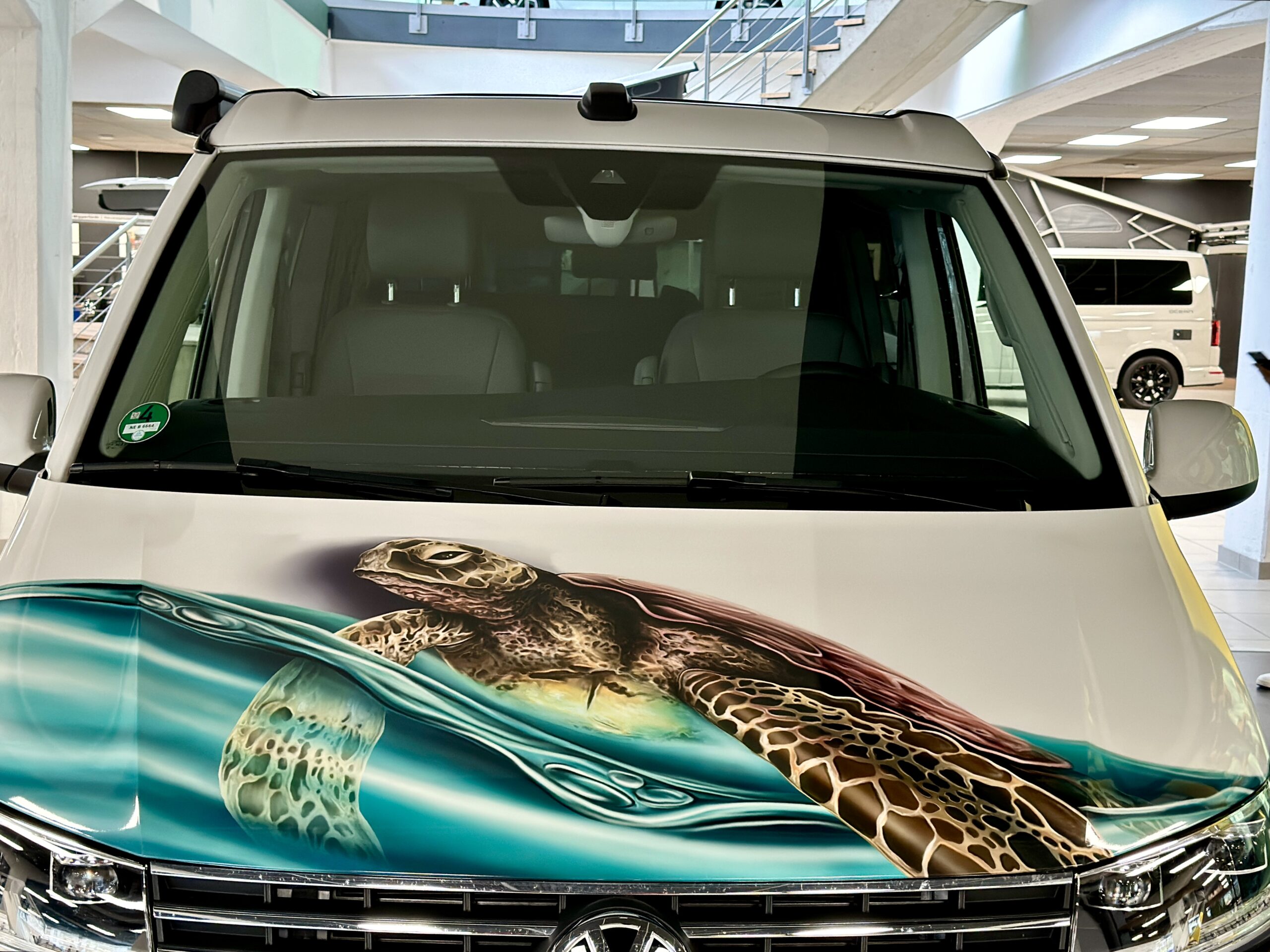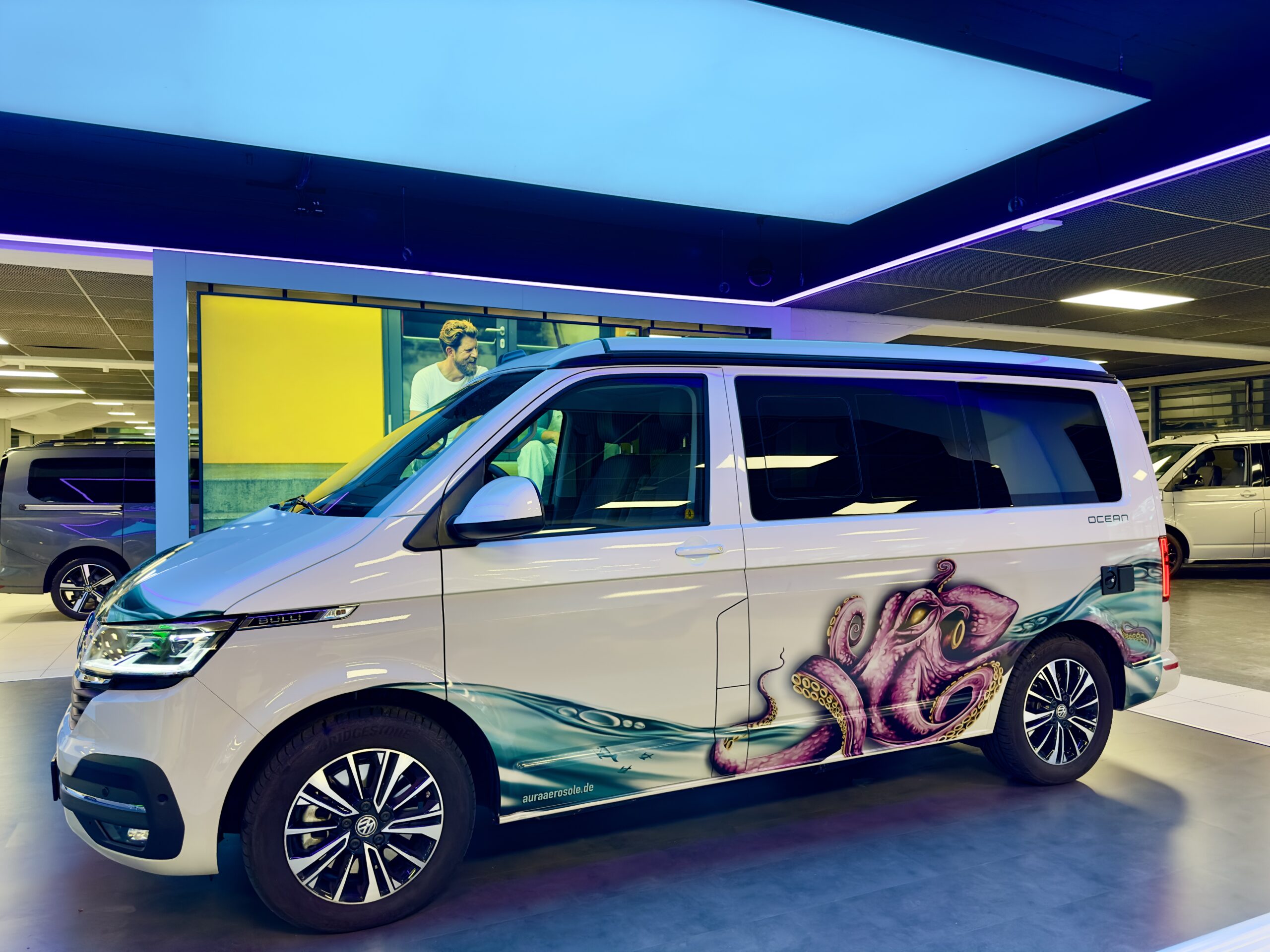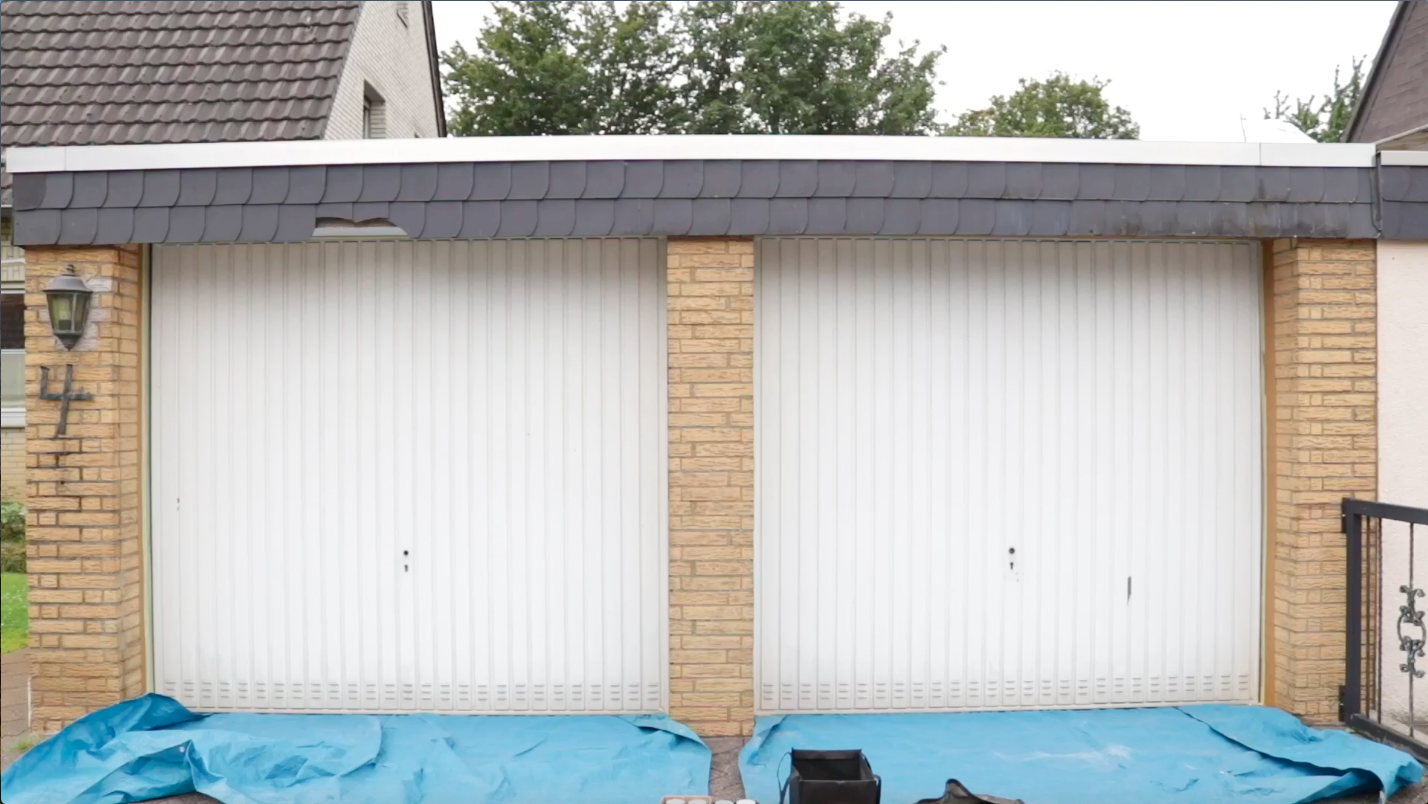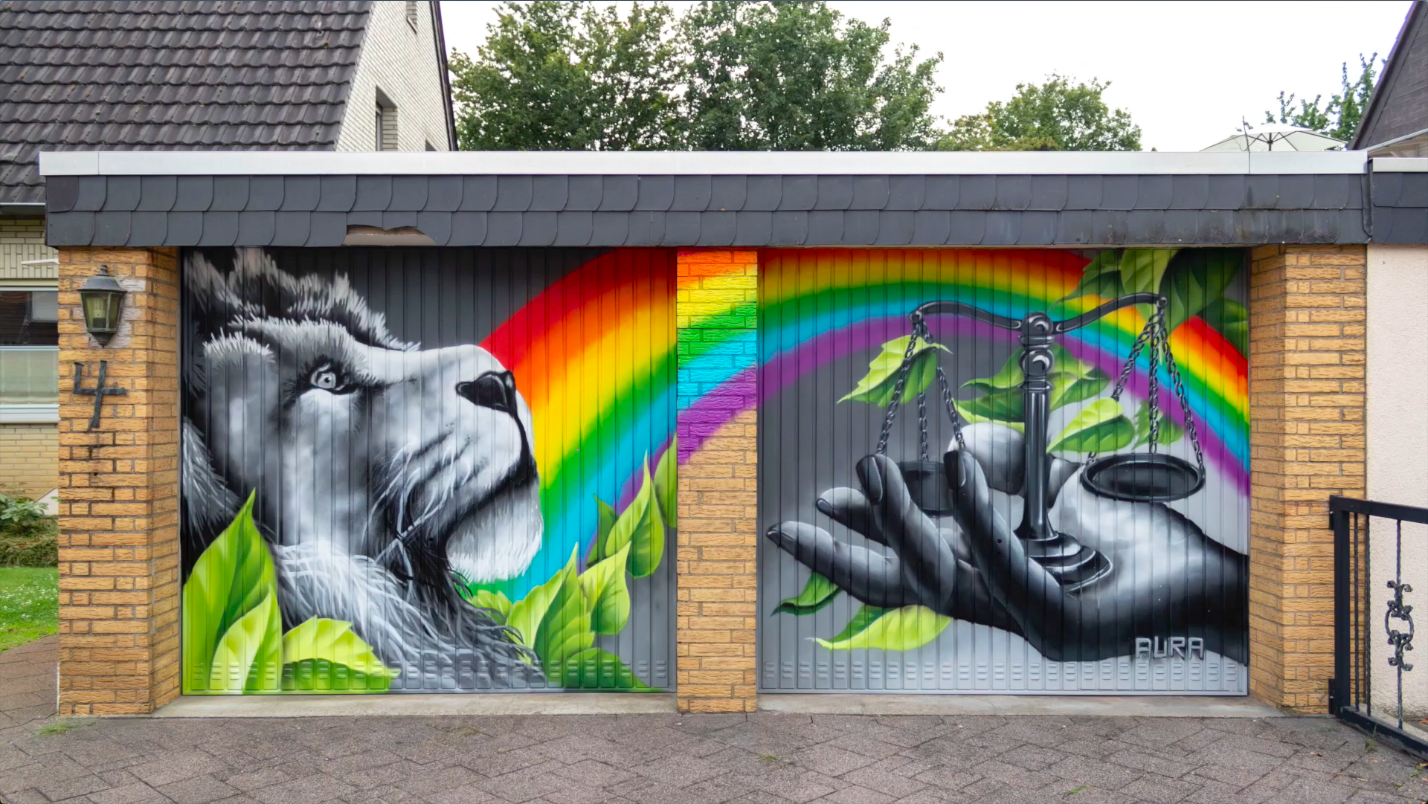 everything starts with an idea.
tell me about your idea
and I'll visualize it in the form of a digital design.
as soon as you are one hundred percent satisfied
with the design idea,
it's time for the final implementation of the order.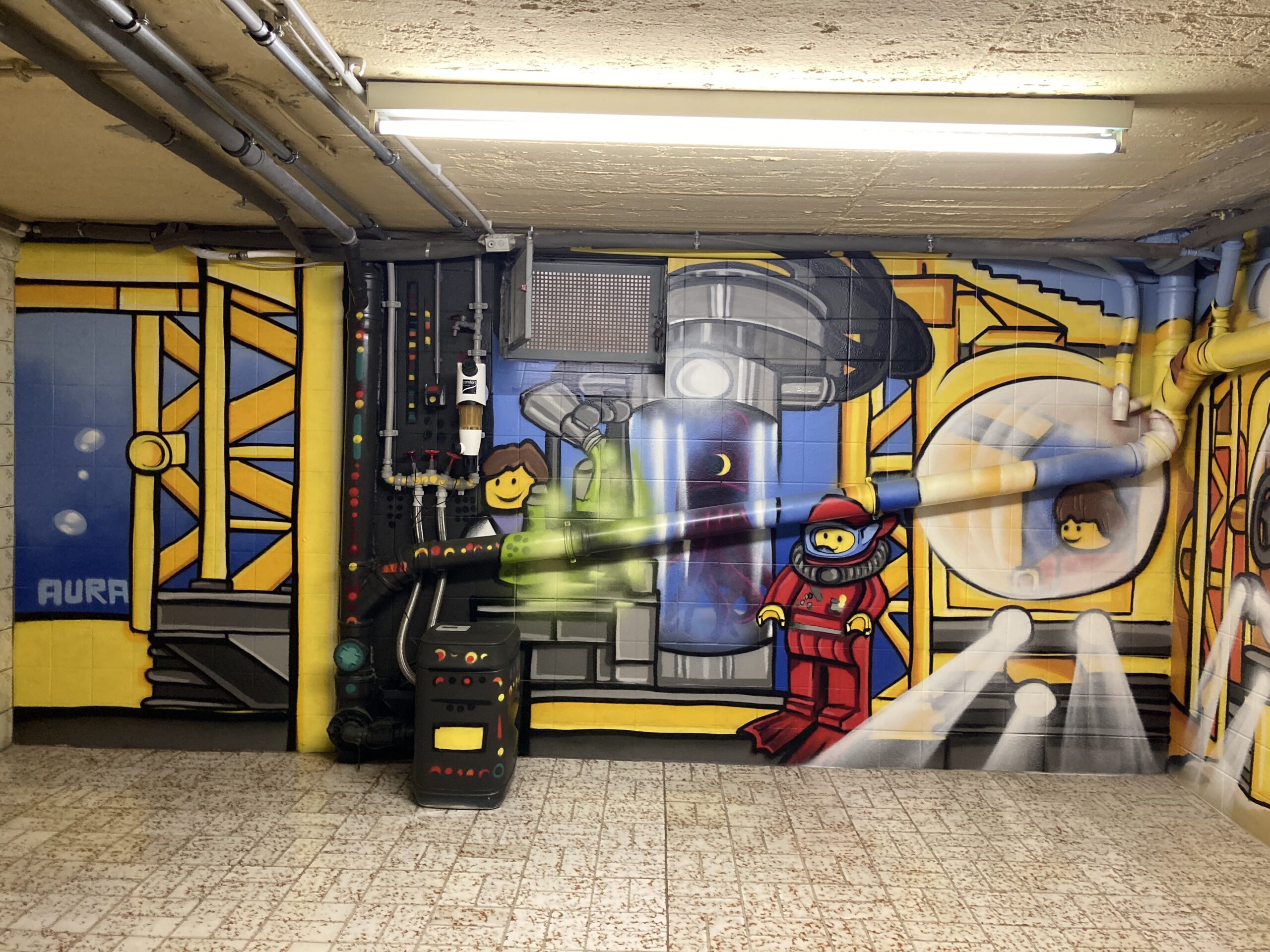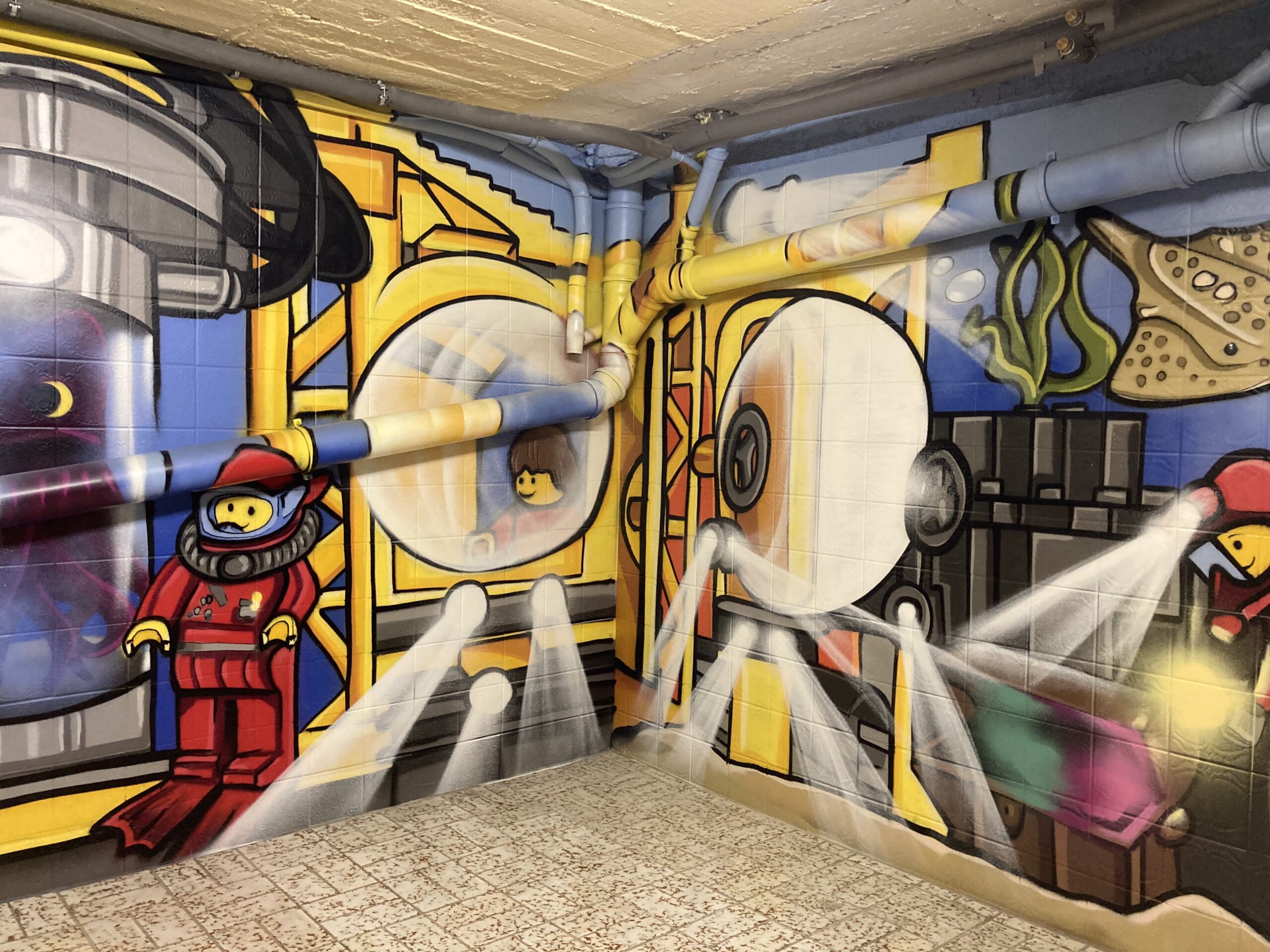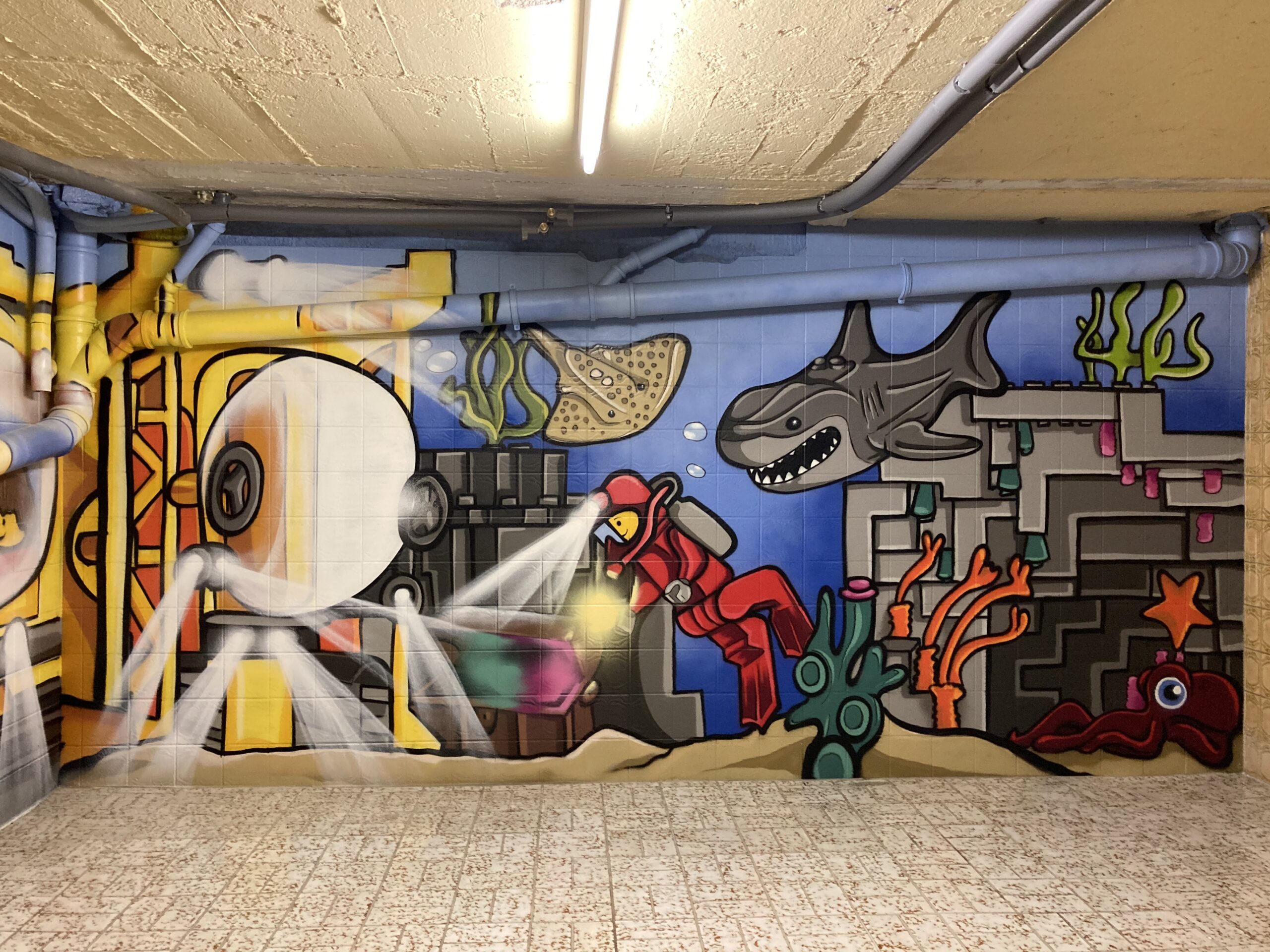 every commission is different and therefore the price
always depends on the individual effort of the order.
a fixed price is calculated for the design in advance including two changes, the service fee
and the material costs.
before each order you will get a rough
price orientation based on a quote letter from me.
for more information, please email me at commission@auraaerosole.de
or fill out the contact form below!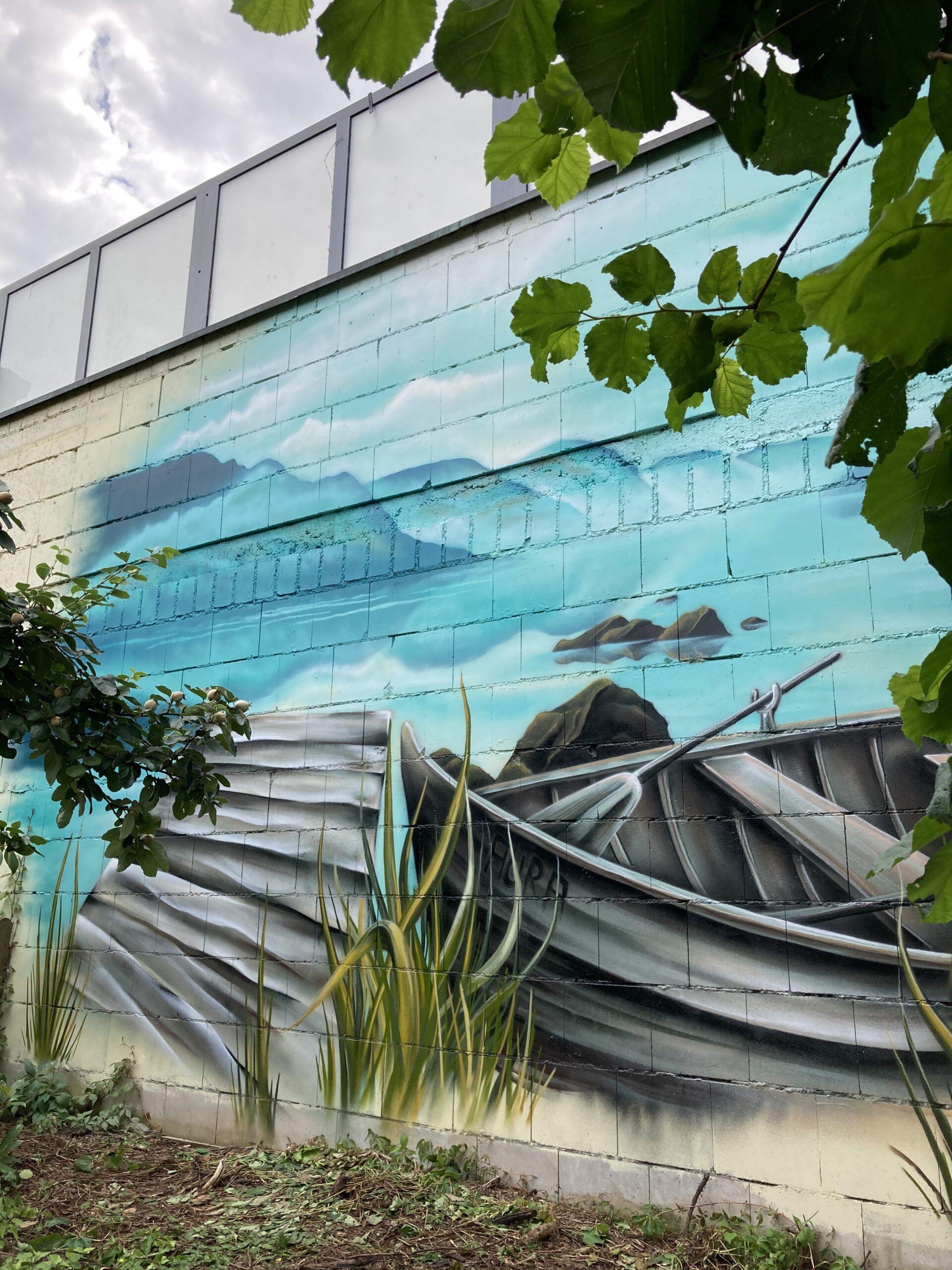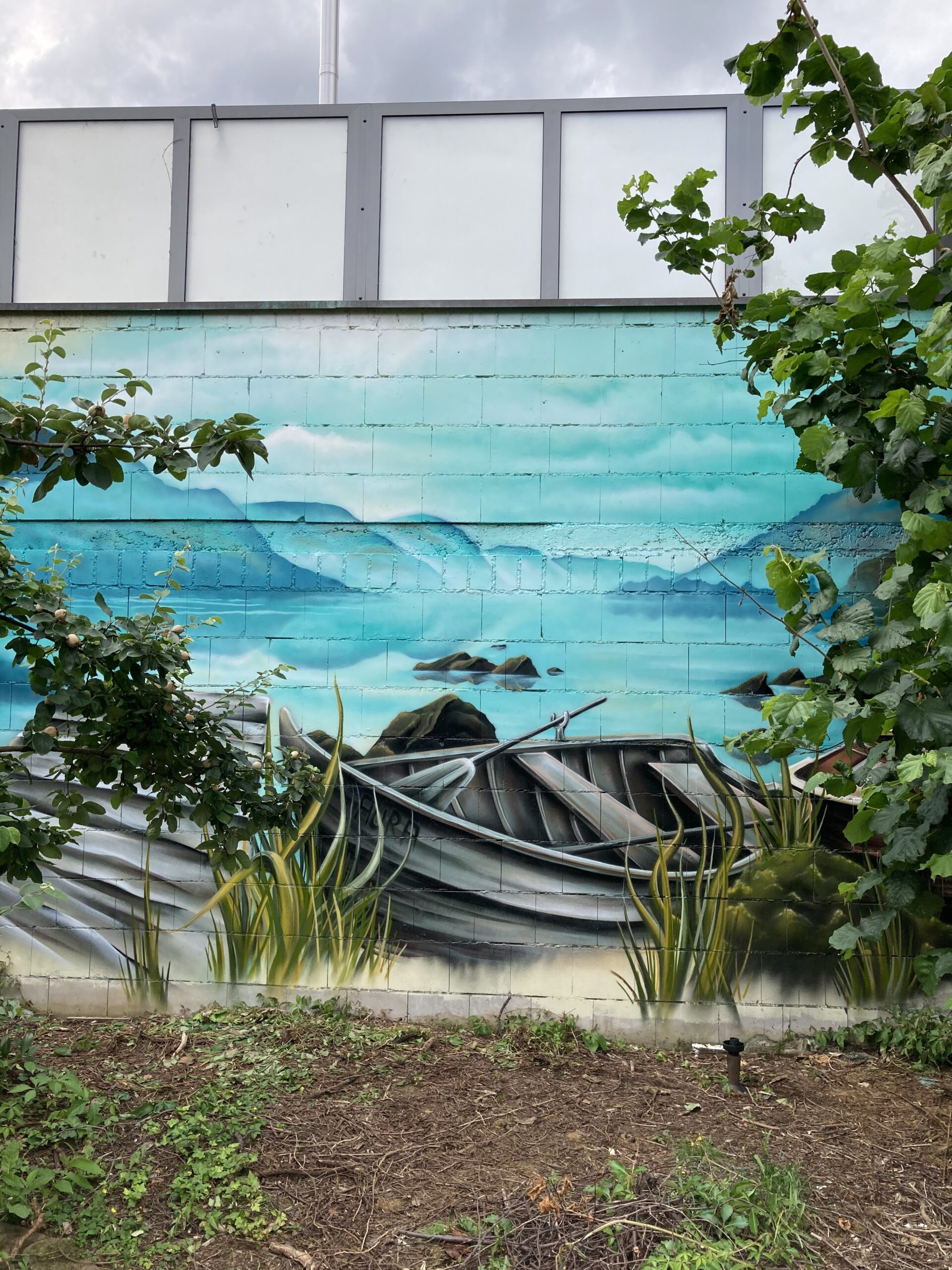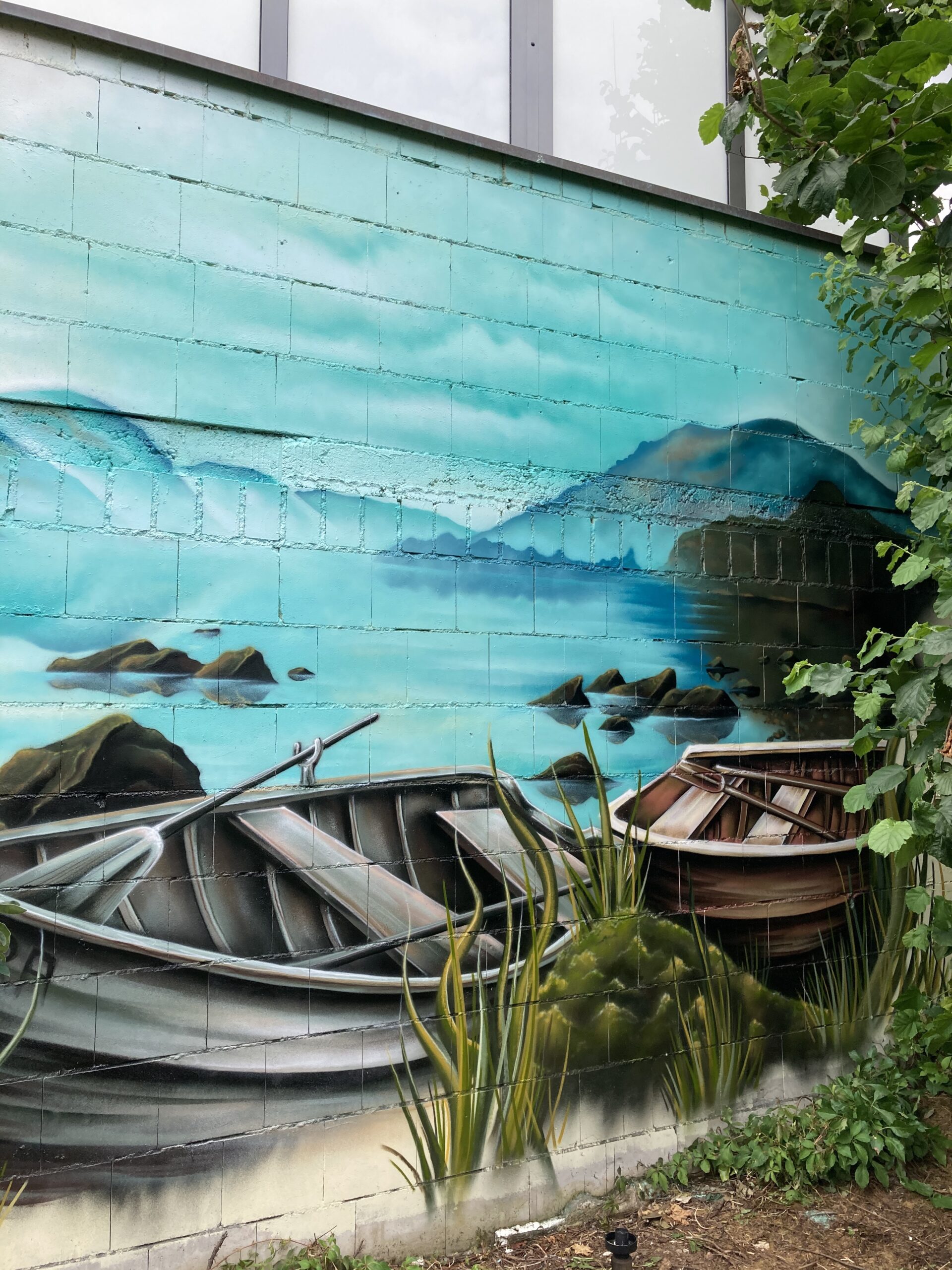 contact me
you want an individual commissioned artwork?
get in touch!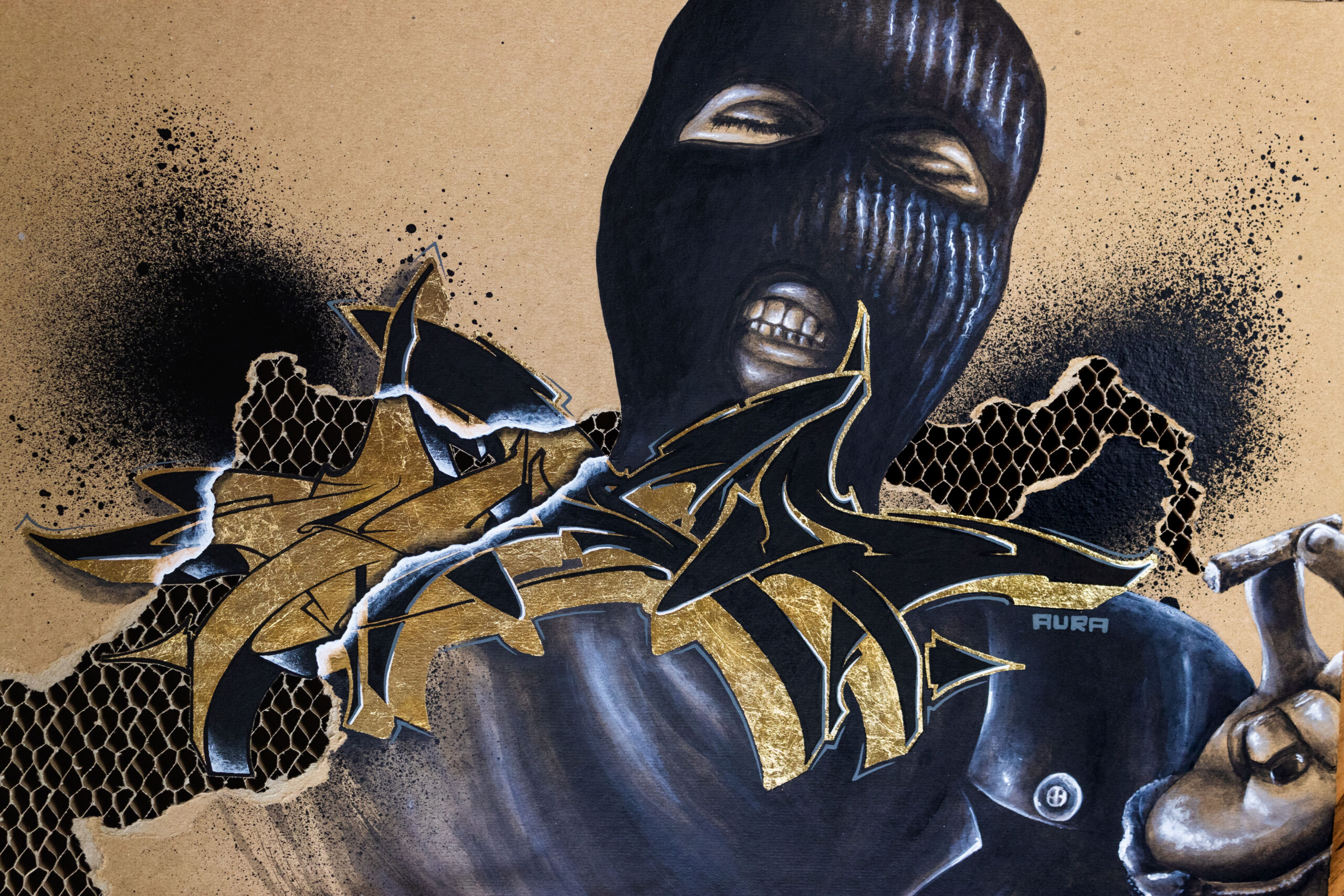 KING ROYAL PRIDE
by DITON KING Indonesia
as the grand finale of the festival tour I was invited to the king royal pride festival in jakarta indonesia and traveled there together with PORK to paint a wall concept with him. the king royal pride indonesia was organized by the local can manufacturer diton king, who also sponsored the material. within 5 days we painted this japanese inspired concept and made the best insights into indonesian culture, cuisine and art you could wish for.
Words cannot describe this experience,
Jakarta was the city of contrasts and isdefinitely worth another trip!
2023                         jakarta, indonesia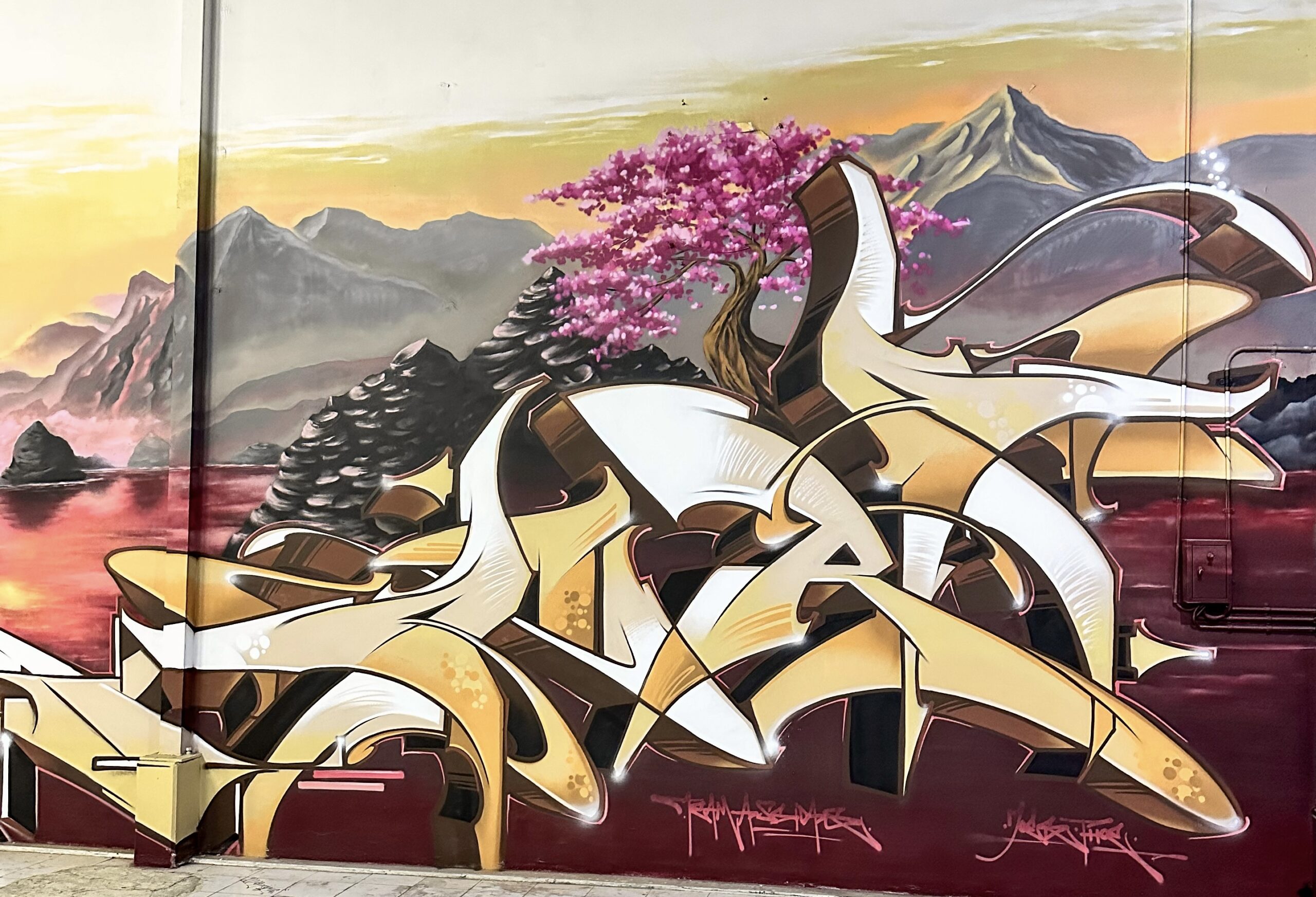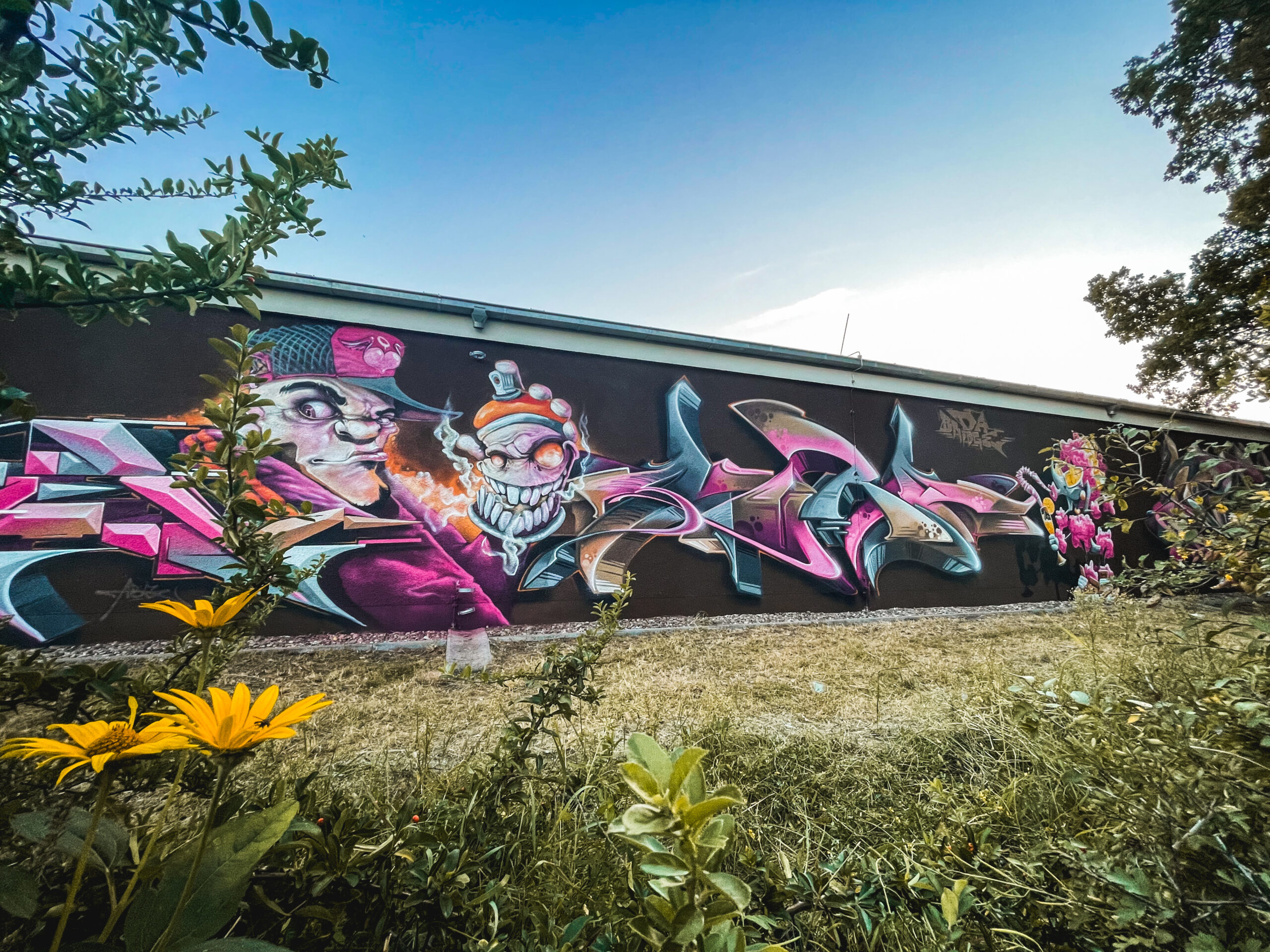 DA BRIDGE JAM
family reunion
camping with friends, cozy evenings and
a wall concept with scene greats like Nash from the loveletters crew –
that's how the summer season can end!
ludwigsfelde, germany                       2023
SUMMA MADNEZZ
exchange wall
for once I didn't paint my name, but that of POSA,
because we swapped names with
several writers for the festival.
at least on the wall!
that brought some variety into the game and provided new challenges.
here too, not only the time spent painting
was pure summa madnezz,
but also the time afterwards at the joint barbecue!
2023                         bremerhaven, germany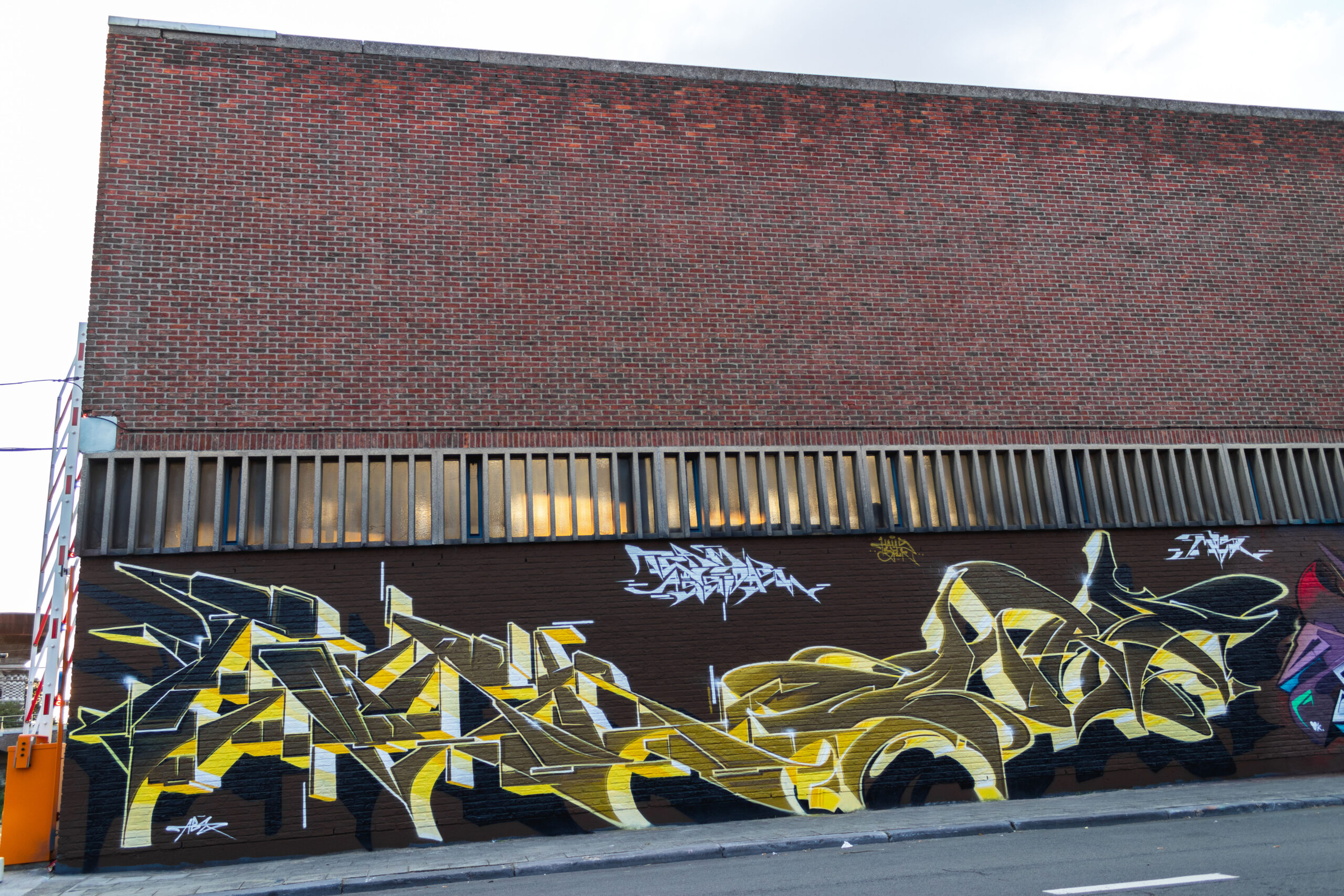 MEETING
OF STYLES
in diamond city antwerp
MOS belgium was the perfect mix between party and graffiti followed by sightseeing in beautiful antwerp.
the circumstances for the first collab wall with PORK couldn't have been better! 
antwerp, belgium                       2023
URBAN HEART
collecting memories
when art meets the perfect organization then that's urban heart, organized by the urban art basel team.
from a rhine tour to get to know each other to summer painting days to trash trains 
painting in the yard –
what better way to enjoy the summer?
2023                         basel, switzerland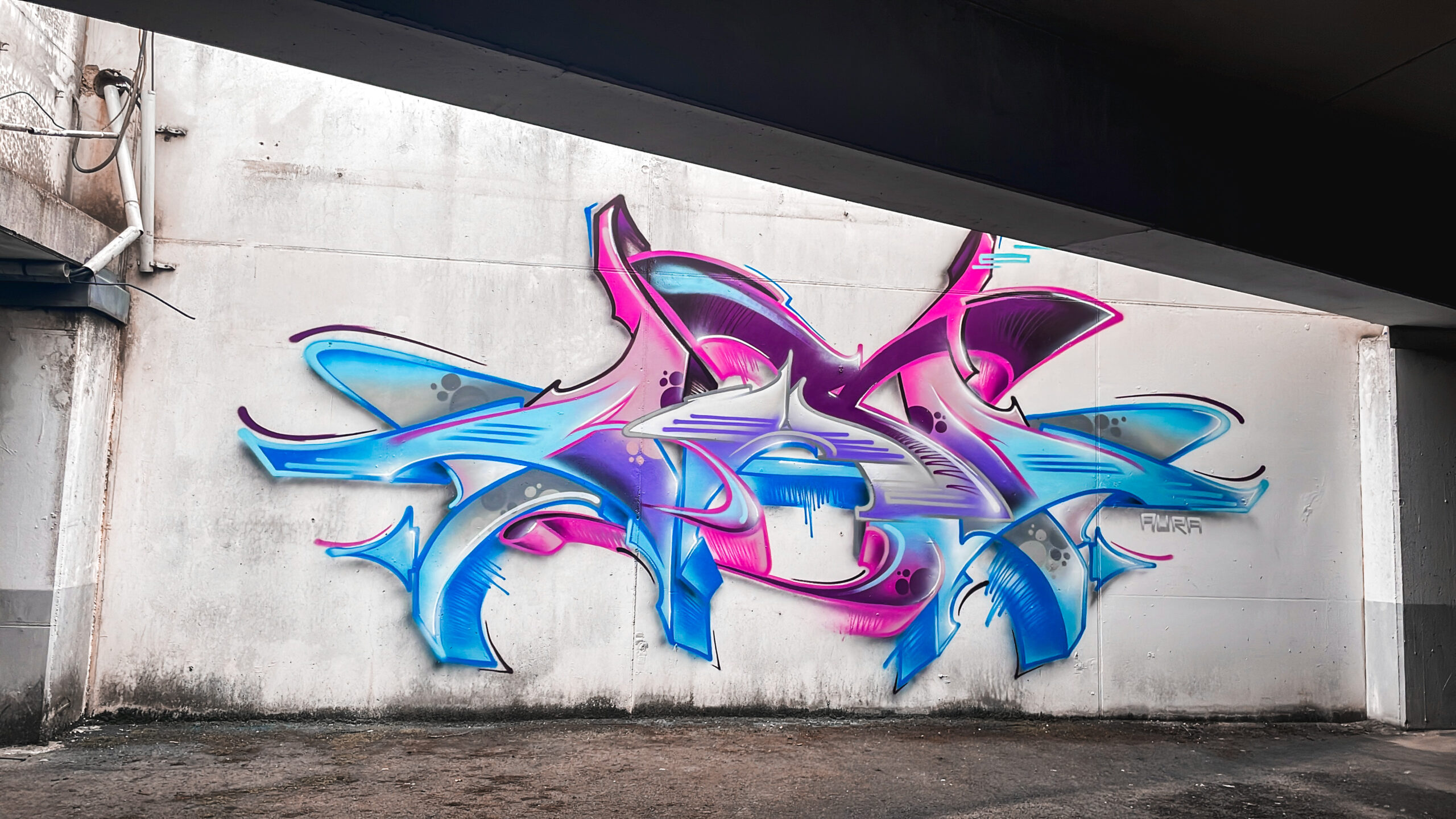 URBAN SYNDROMES
3 days – 3 walls
3 days times painting marathon in beautiful dresden next to so many
good writers!
dresden, germany                       2023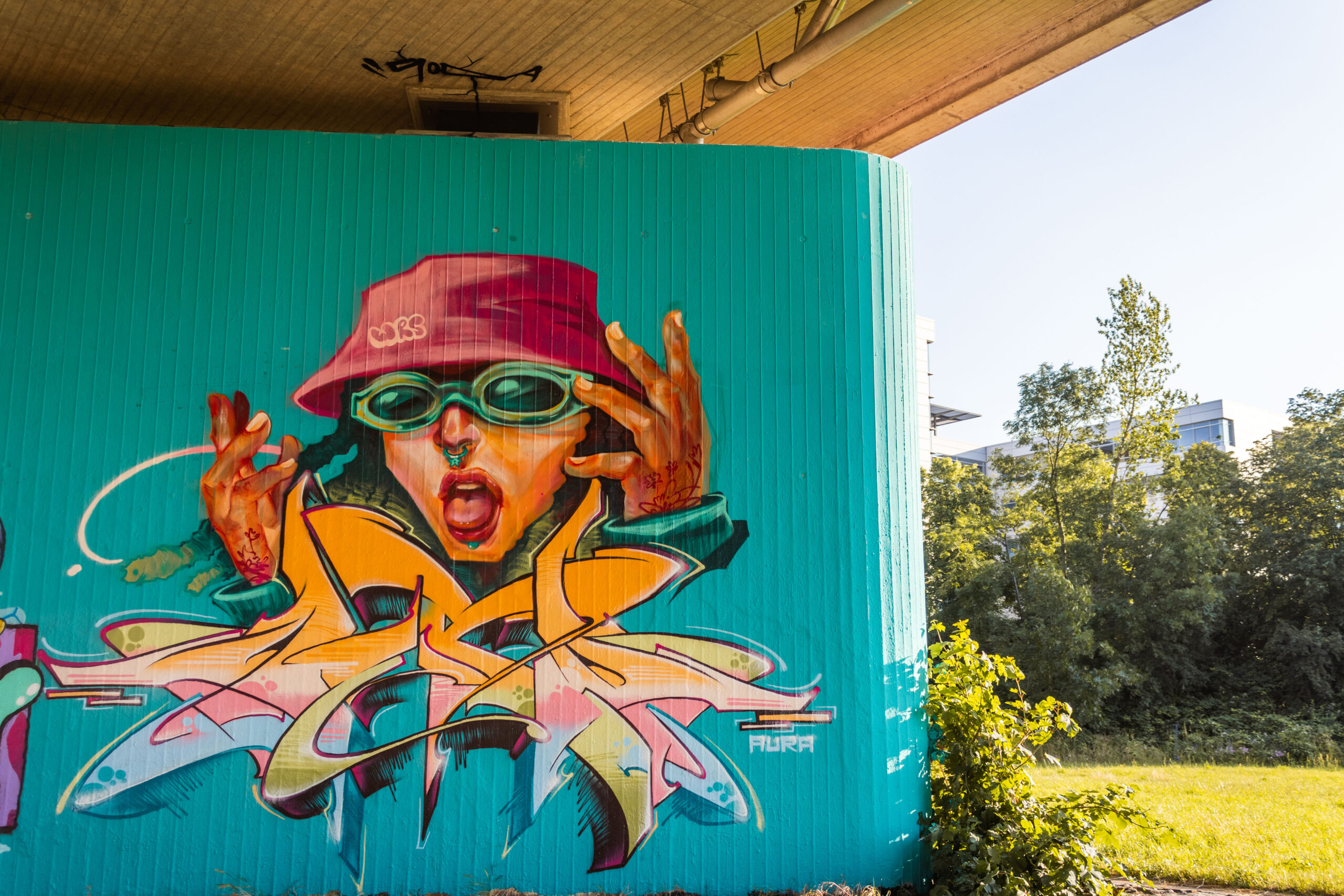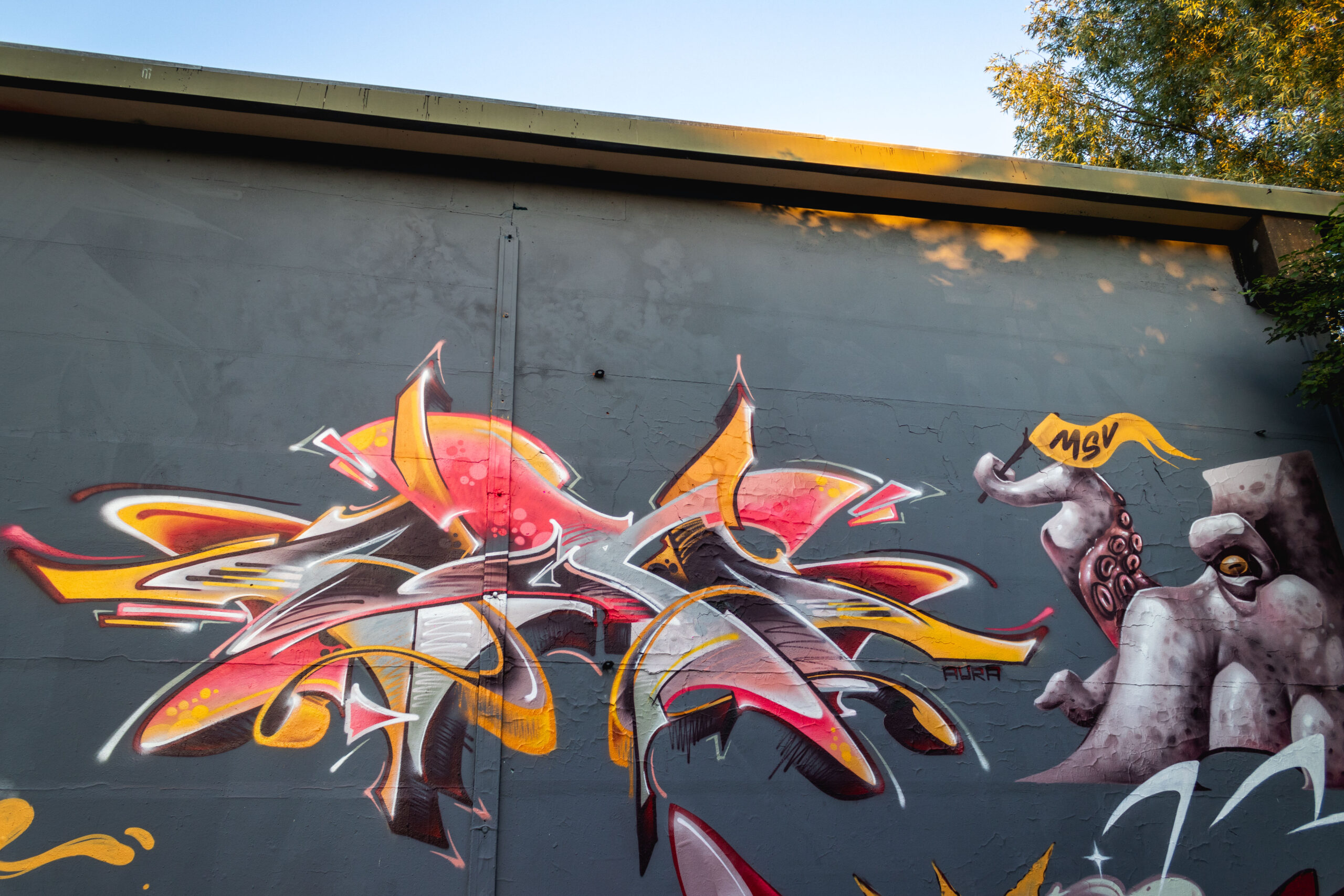 SHE UNIT  TEXAS
girlpower in texas
the first stop was directly a long-haul flight away
and the continent was changed, hello america!
what an honor to be invited to headline the
SHE UNIT festival 2023 and meet so many talented graffiti girls from so many different countries.
I shared the wall with the australian writer XHALE, another example of how
graffiti connects beyond painting.
a trip around the globe without knowing anyone on the ground personally, but organizer rachel and XHALE were instant friends as soon as we met.
2023                         dallas, USA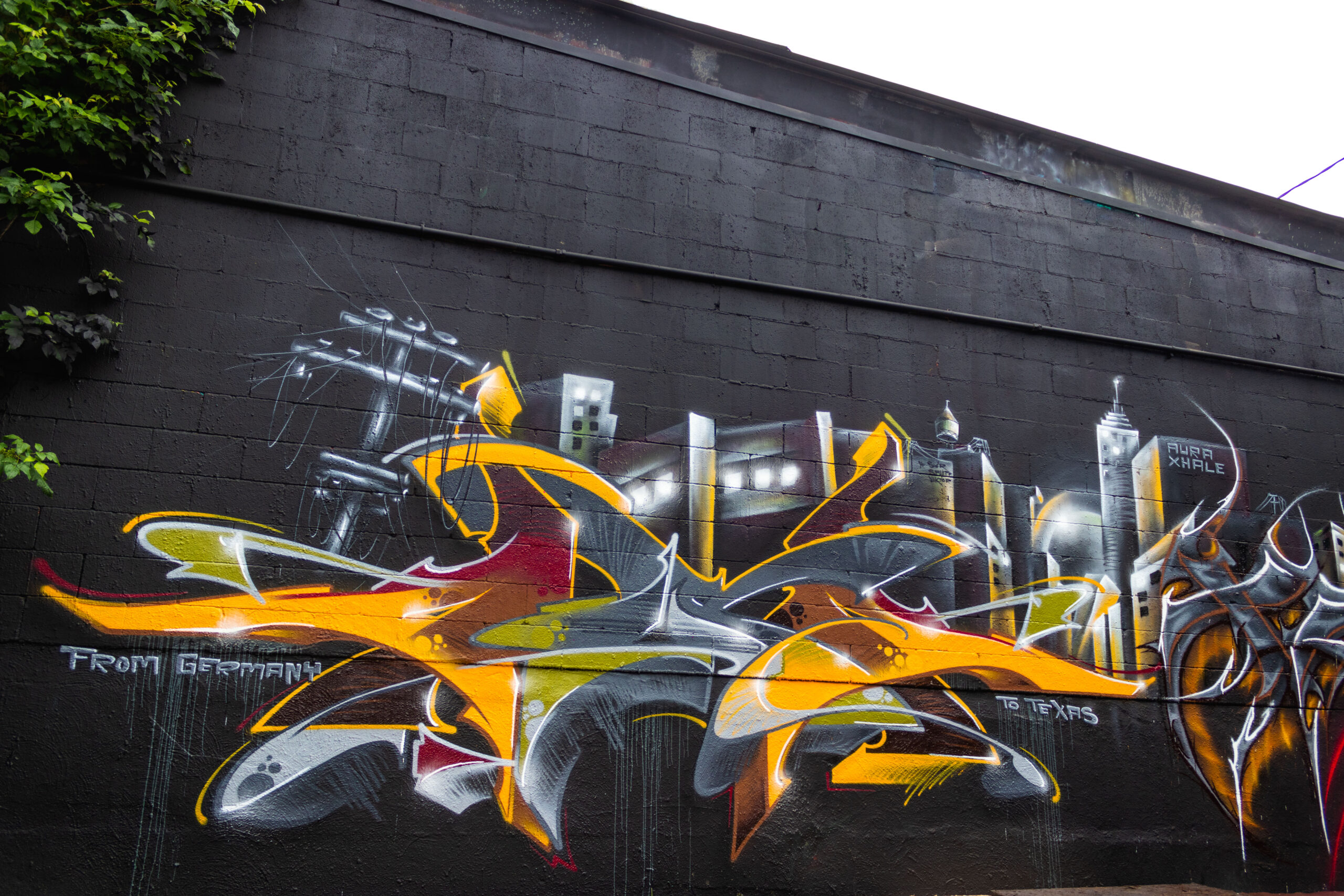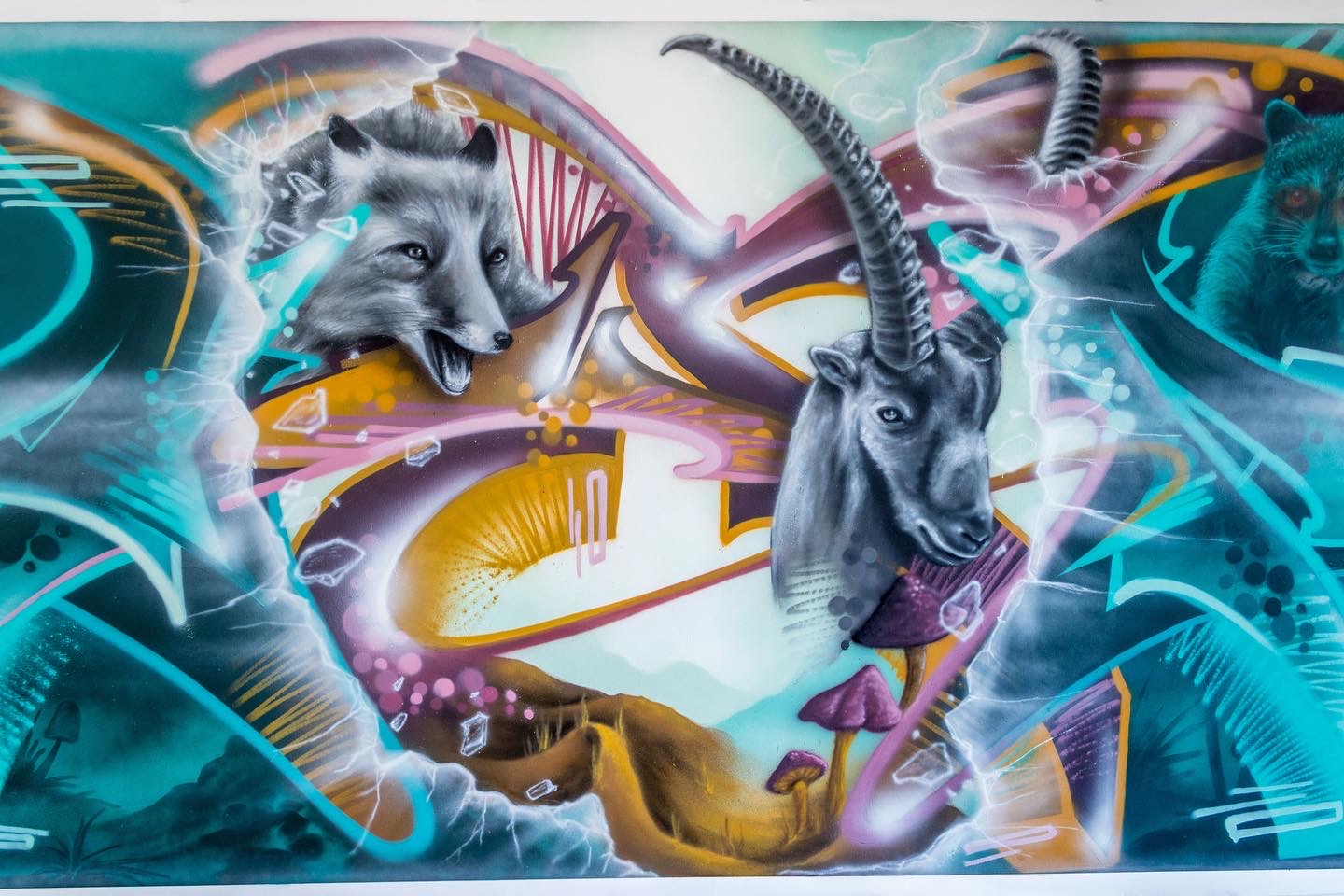 UPAINT
helicopter flights and the prince
this was definitely the highlight of this year and a very personal honor for me. invited to monaco by the incredible upaint team, we had a wonderful few days meeting insanely great artists in person and painting an OLDHAUS x AURA collab wall for the auction benefiting the prince albert II foundation. the theme of the auction was to promote coexistence between humans and the surrounding nature of monaco, which is why we included native species in our "WILDstyle".
monte carlo, monaco                       2022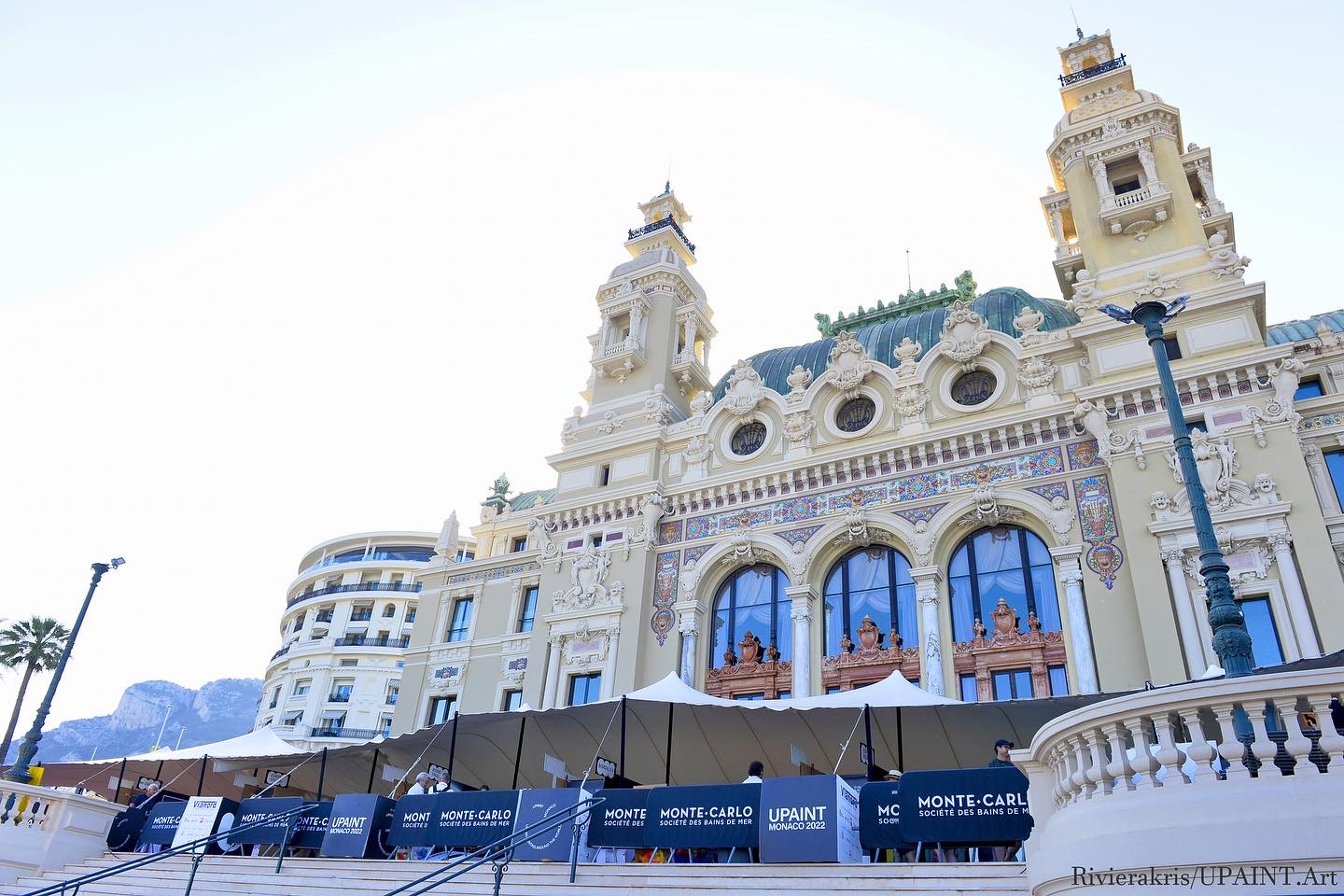 PAINT ON WALLS
good vibes and good people
An honor to be part of the paint on walls festival again!
A weekend full of good mood, nice people,
delicious food and lots of fun painting,
the epitome of a relaxed graffiti summer
2022                         geldern, germany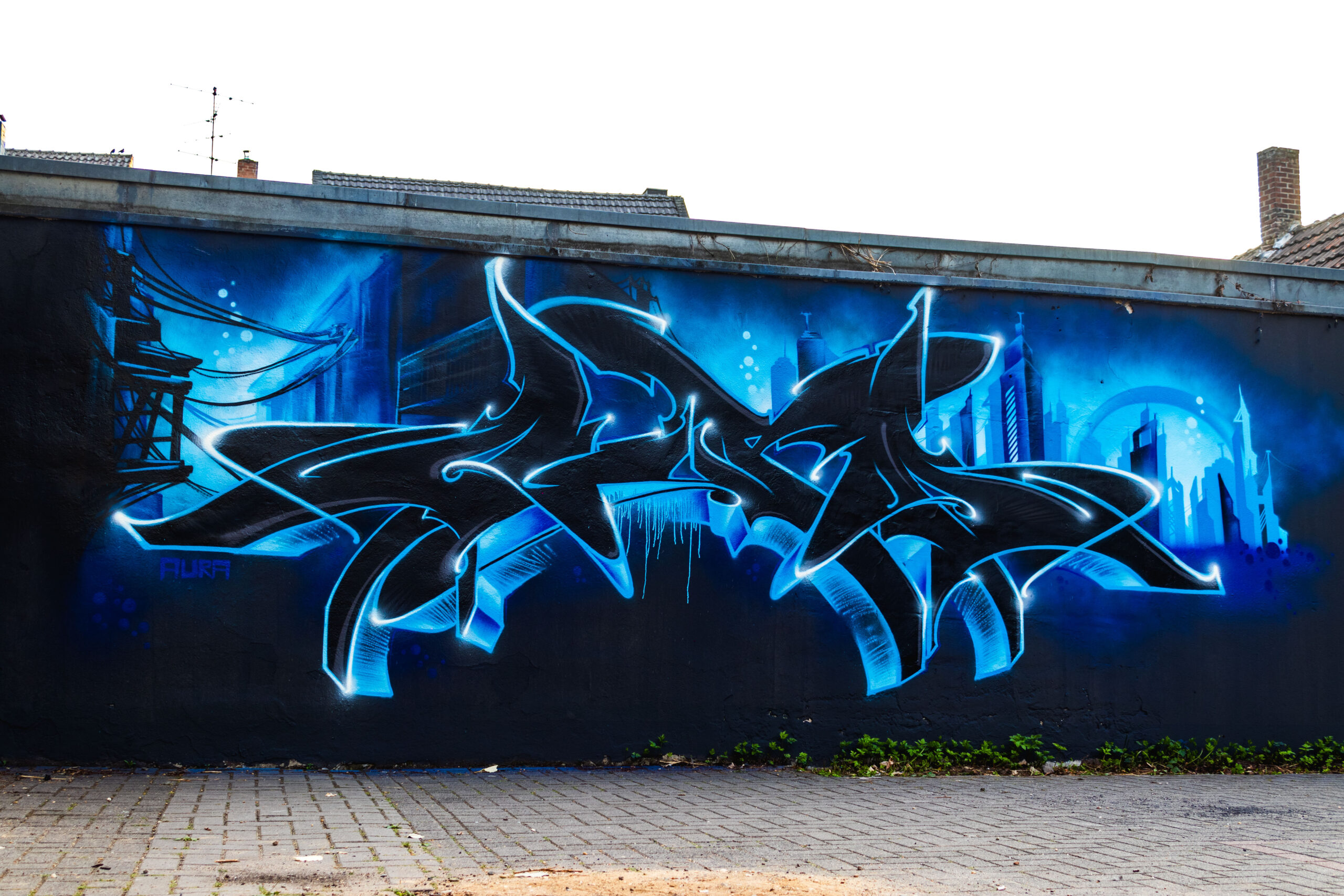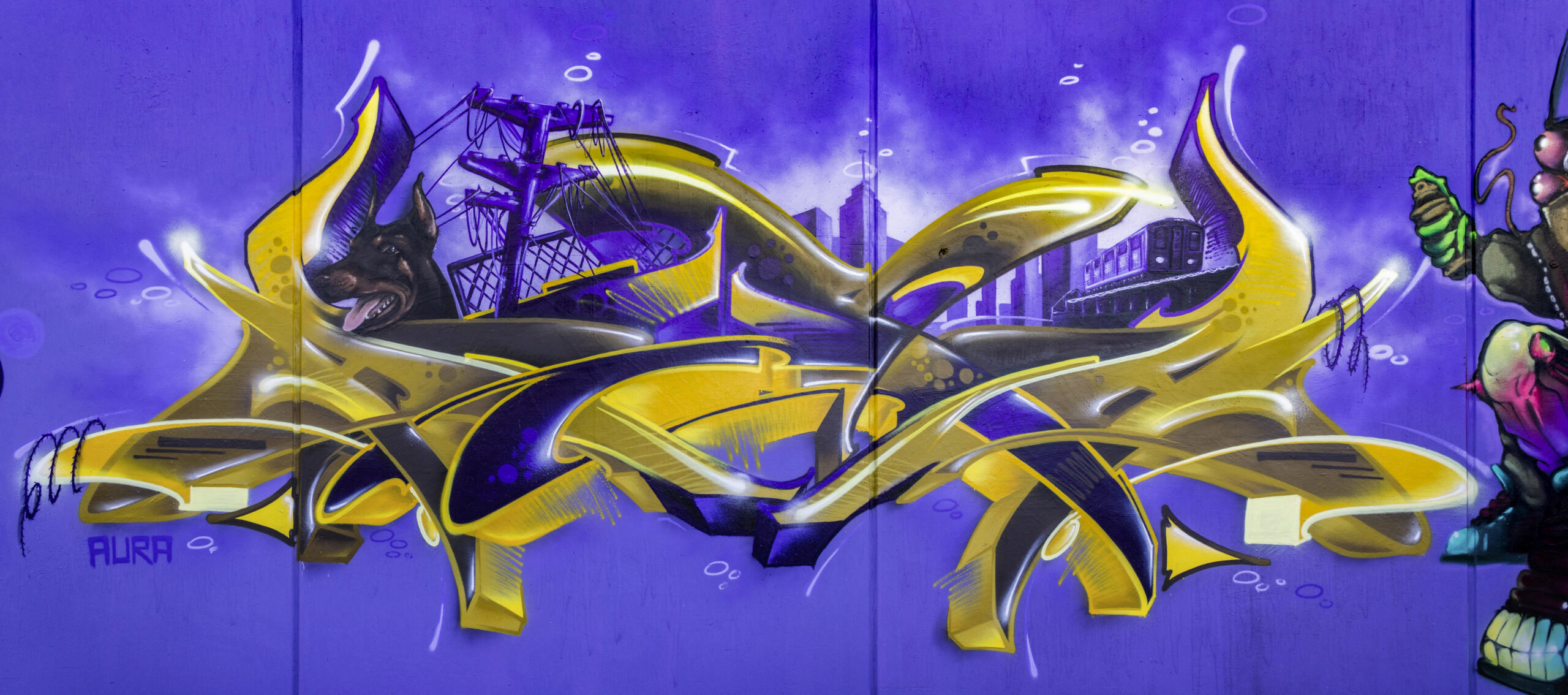 21JAMSTREET
berlin callin!
A spontaneous colorful weekend in Berlin, where we gave the 21er gallery
a new coat of paint.
Thanks to HONEY and MARE for the hospitality and invitation,
we'll be back again! 
berlin, germany                       2022
UNFRAMED
meeting legends
to paint and exhibit next to scene greats like Martha Cooper, Henry Chalfant, TKID170 and SKEME has been my greatest honor so far.
the UNFRAMED expo and jam brings together the  biggest names of the international graffiti scene in one exhibition and is therefore considered the biggest and most legendary urban art exhibition worldwide.
2021                         heerlen, nederlands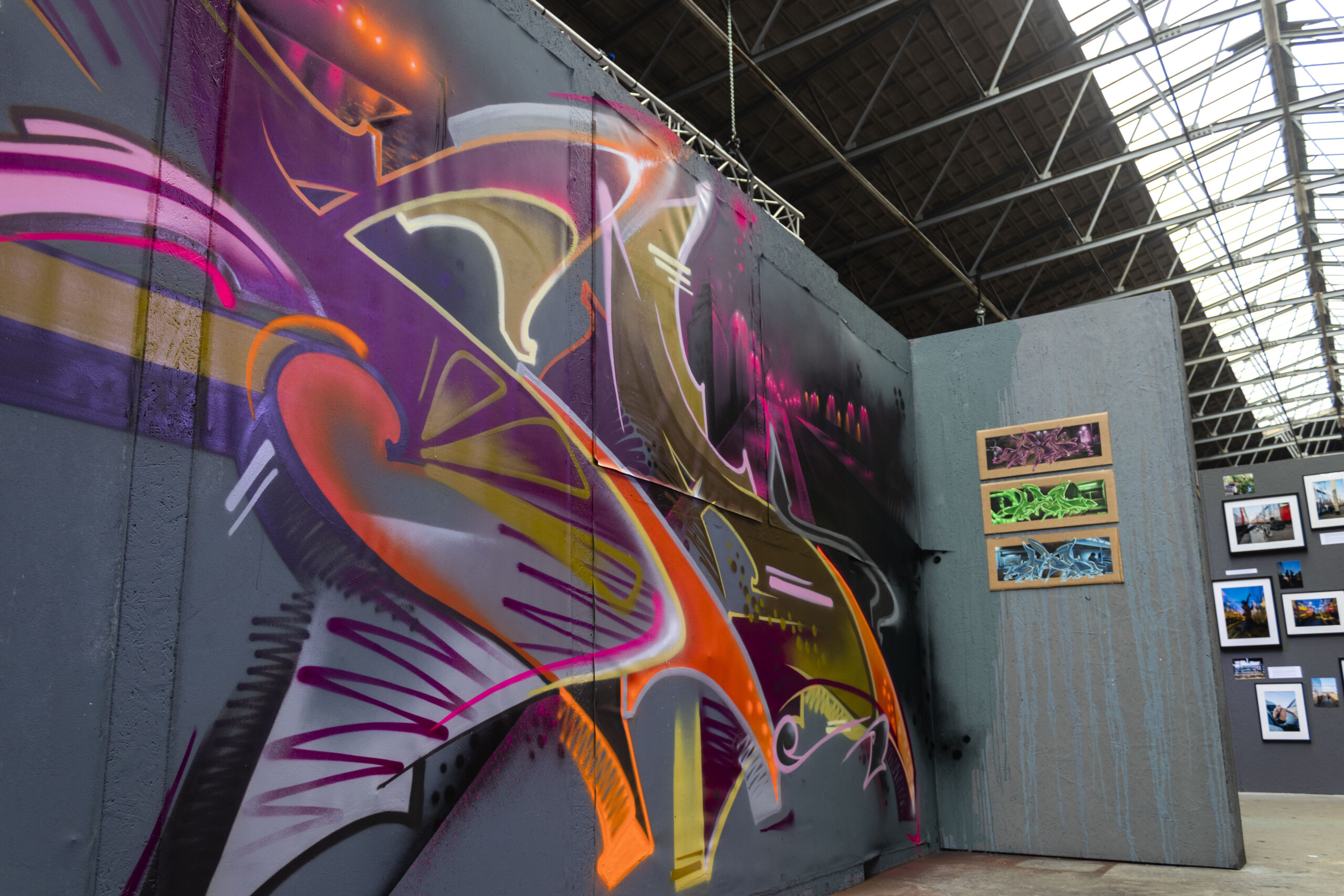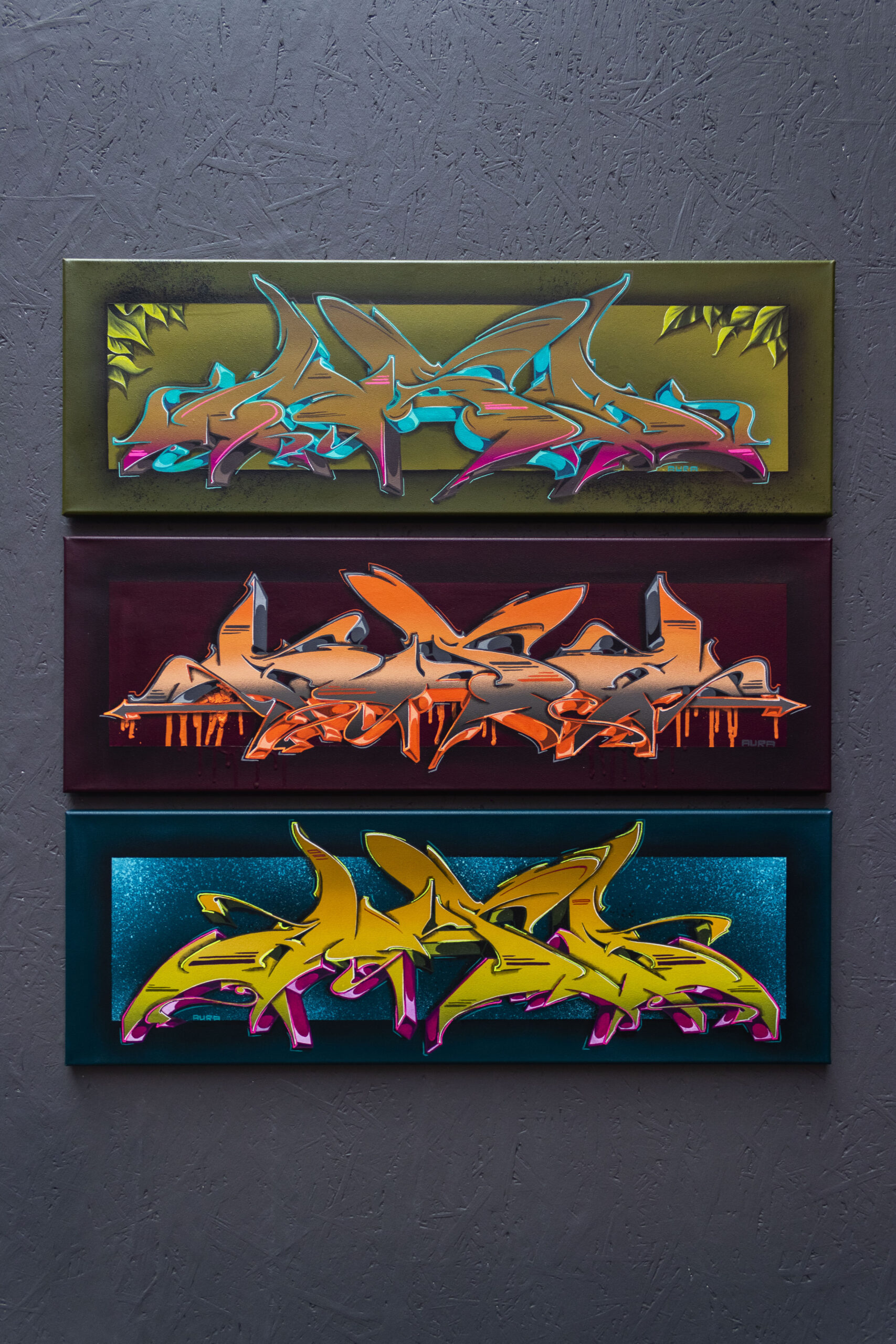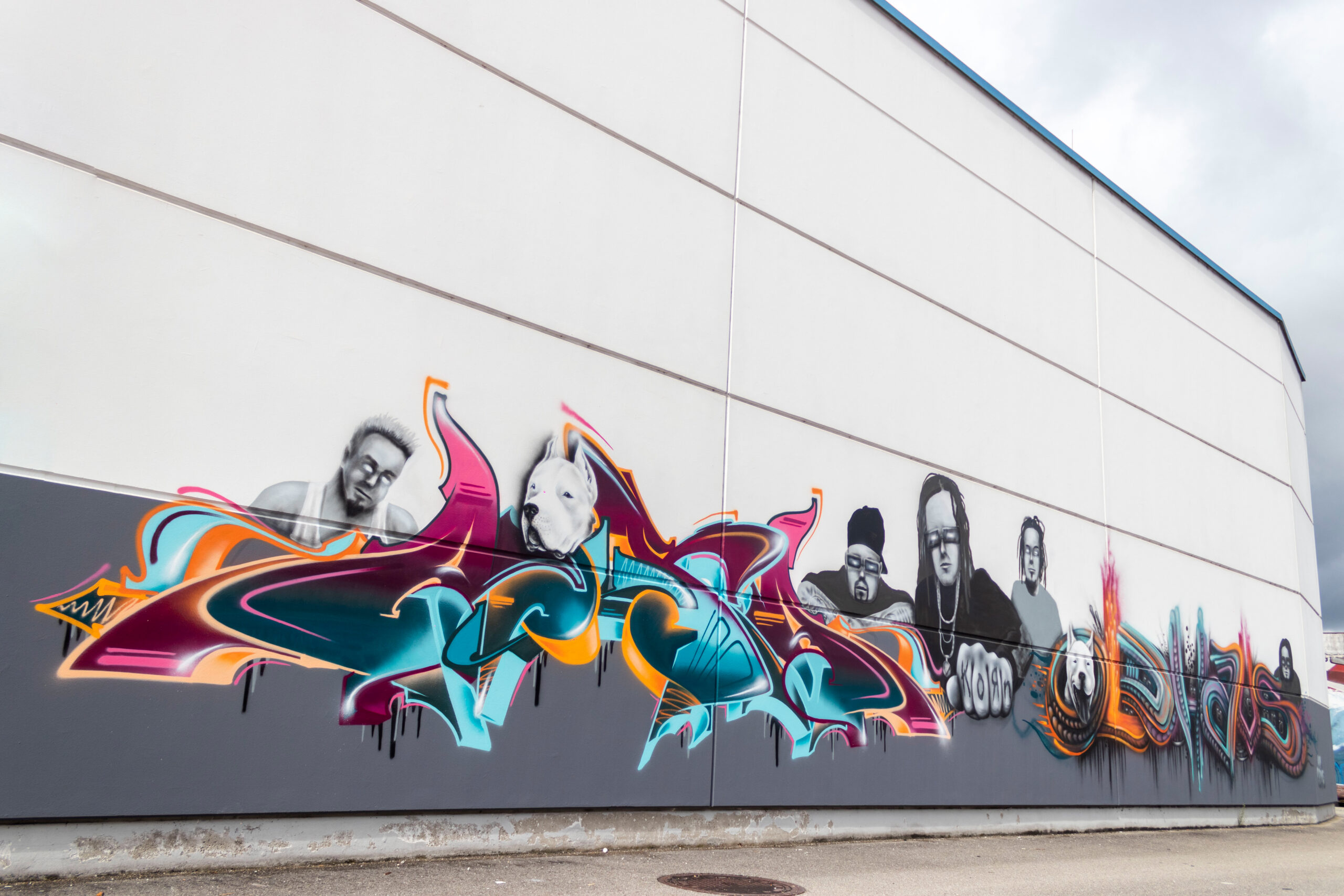 TOGETHER JAM
summertime is festival time!
together with OLDHAUS, we spent a nice weekend in wels, met many other graffiti writers from germany and austria and painted this wall concept, inspired by a poster of our both favorite nu-metal band KoЯn.
wels, austria                        2021

PAINT ON WALLS
sunny funny weekend!
one of the things I like about graffiti, besides the artistic freedom, is the social aspect of it.
graffiti festivals bring artists together nationally and internationally and allow them to exchange ideas and make new contacts.
the paint on walls festival was just such an event. in the best weather, next to the dj and food truck, we had a great time with nice people and great conversations.
2021                        geldern, germany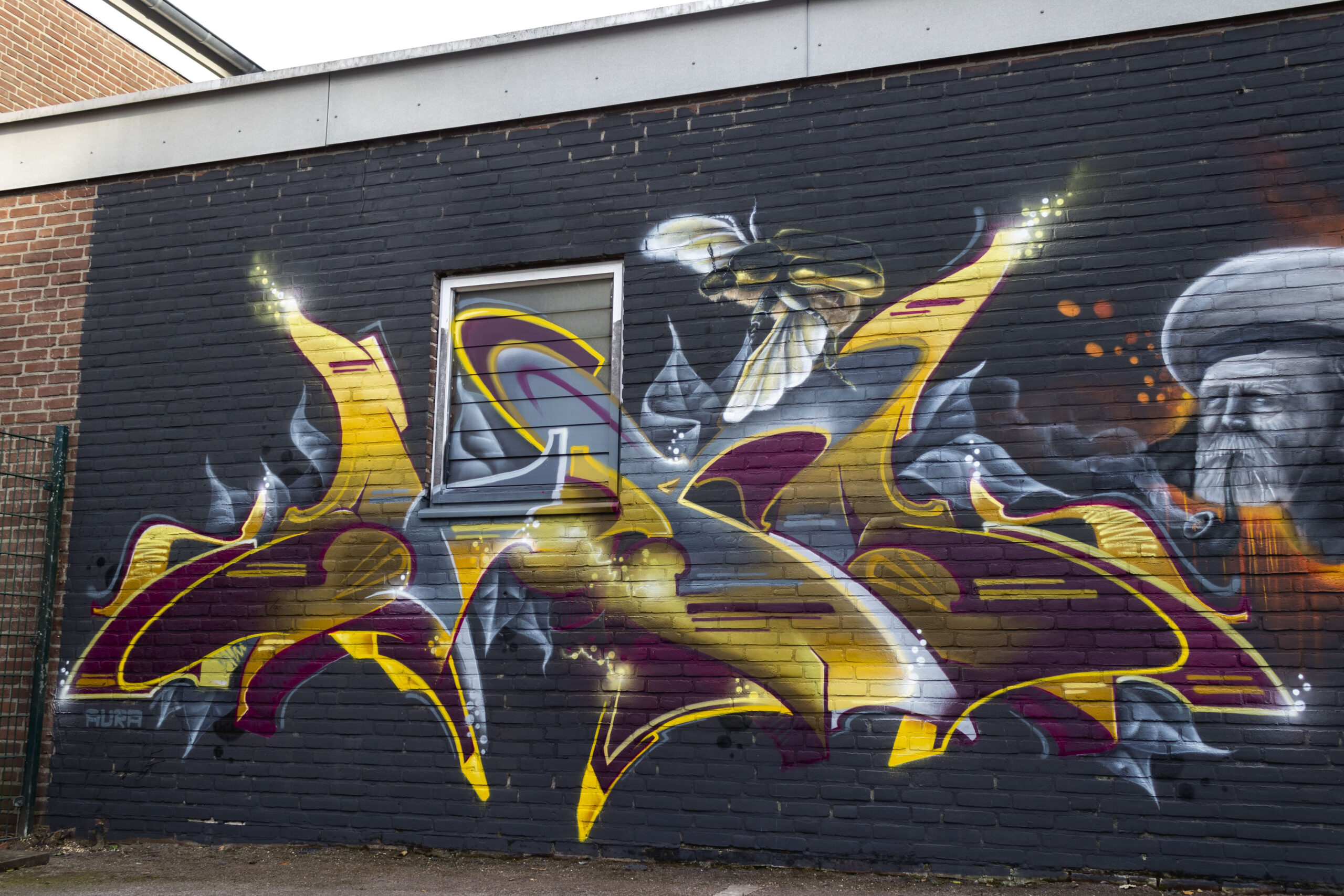 All Real Things
exhibition/
gallery opening
2023
sittard
netherlands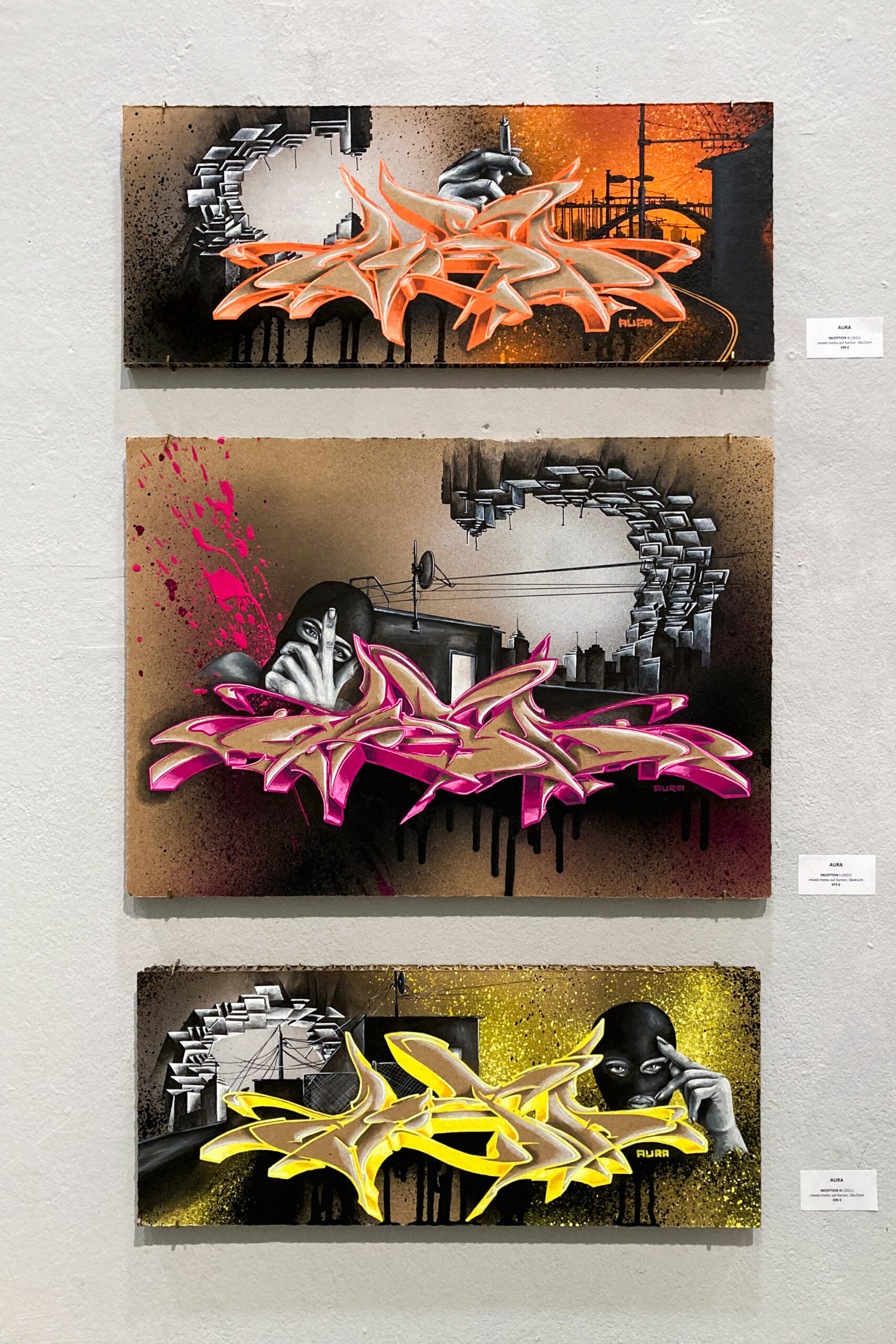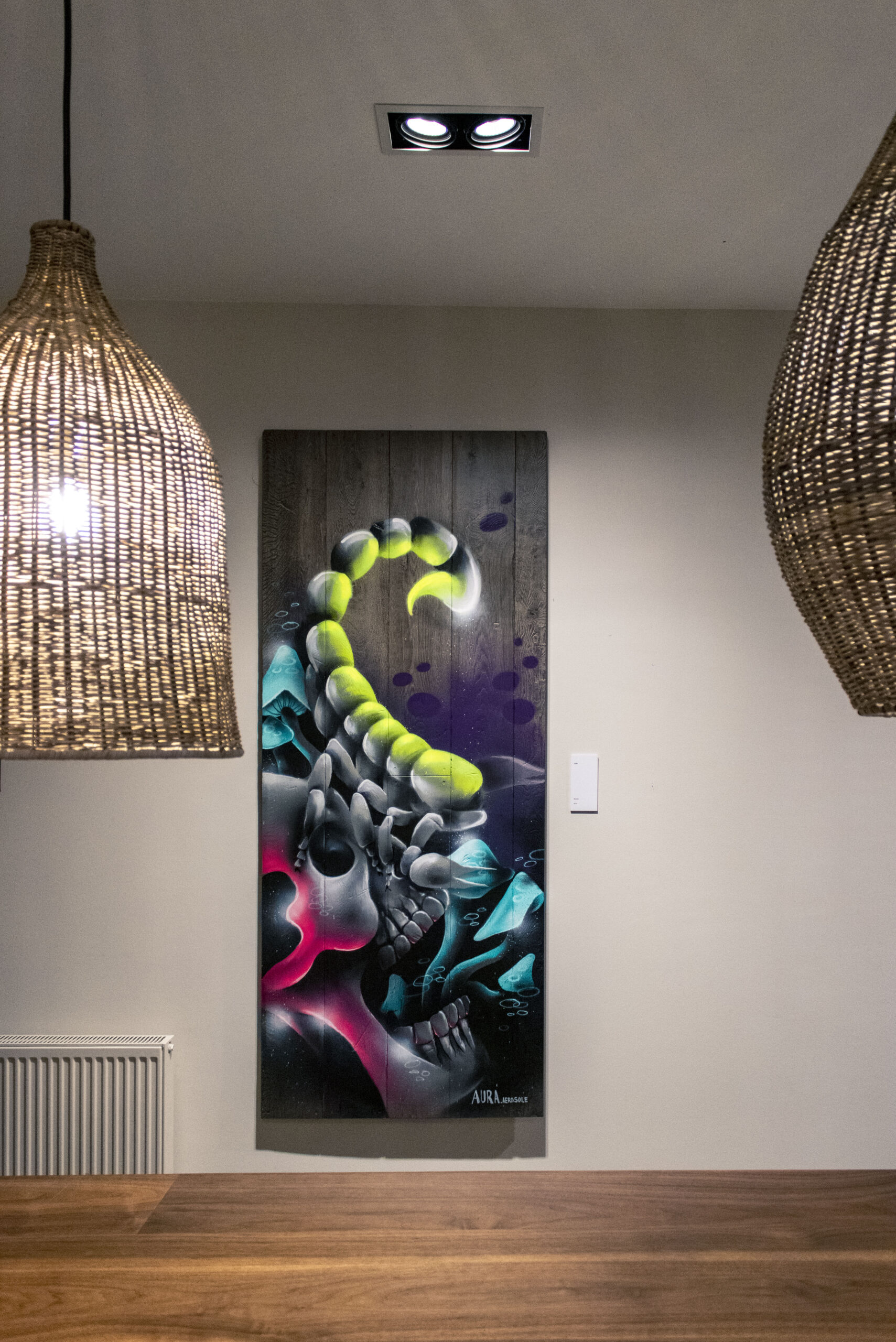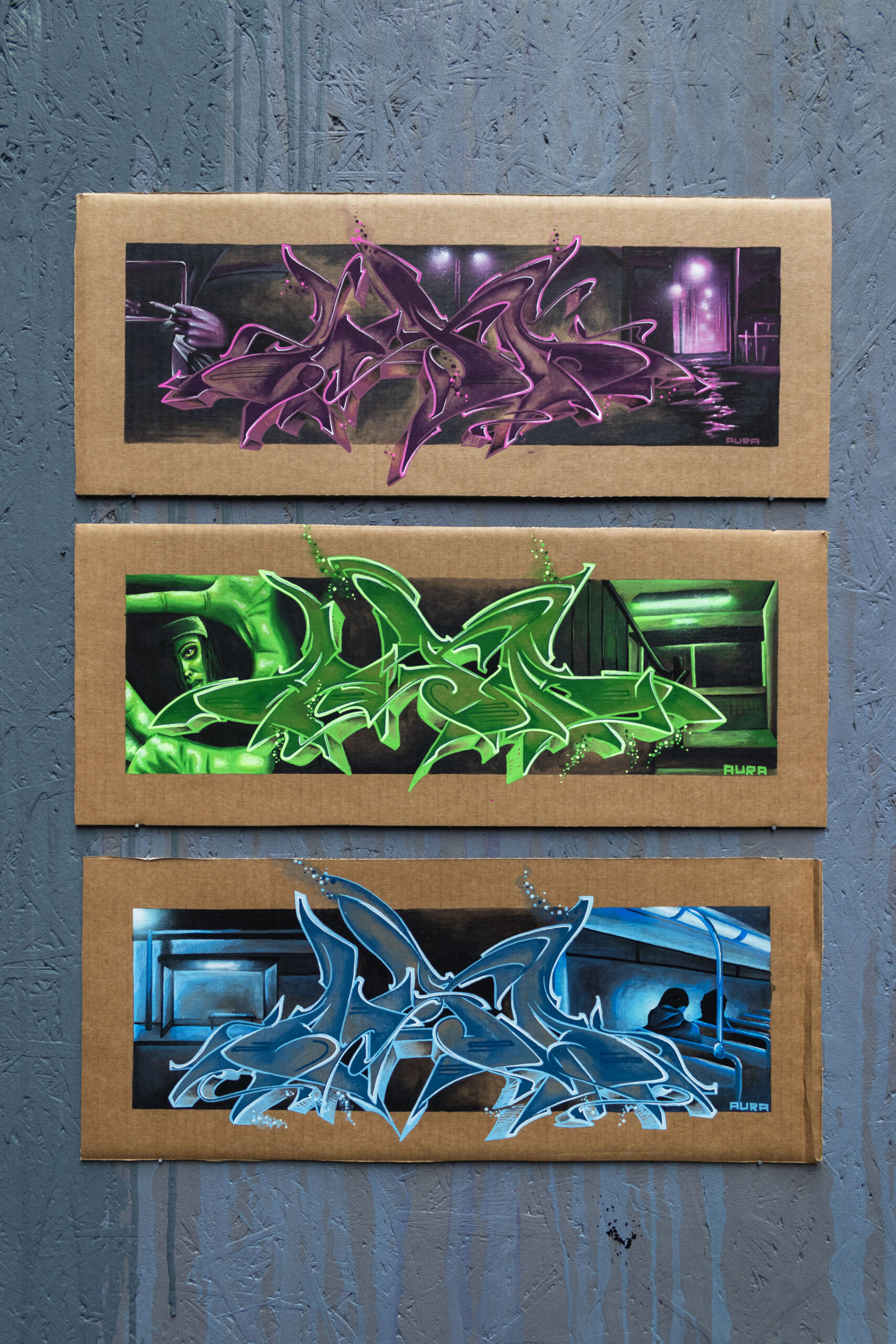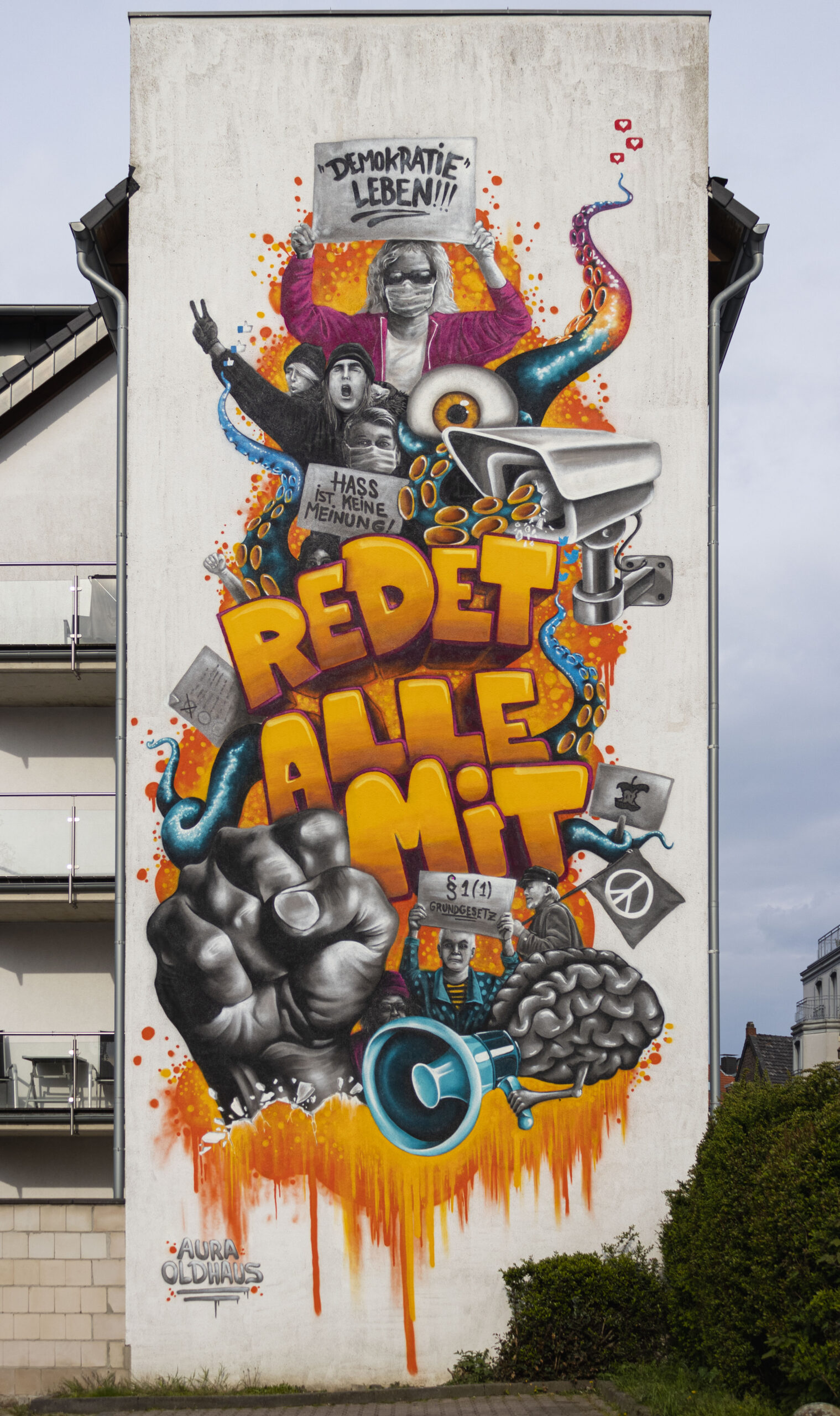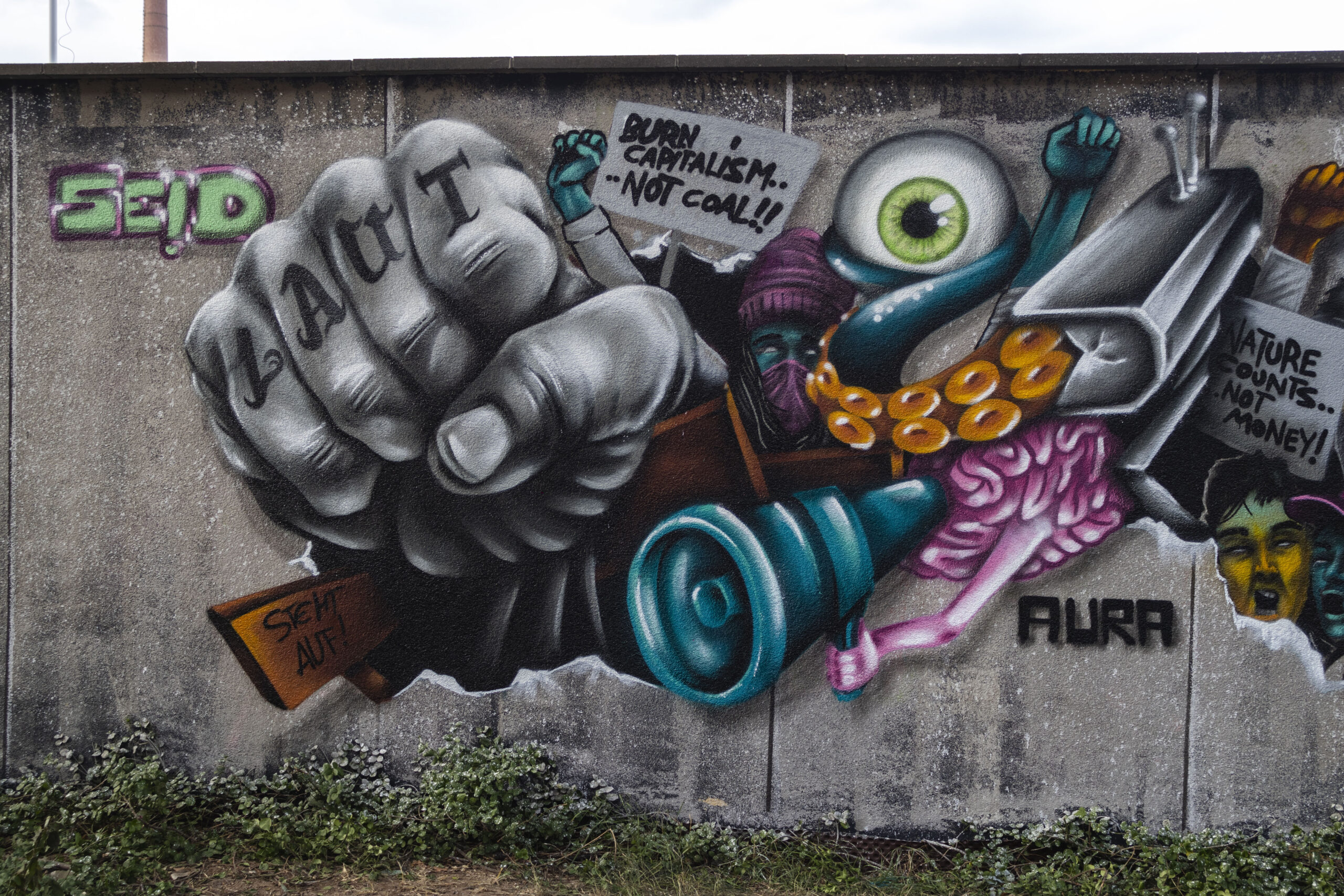 in 2019, OLDHAUS, Janne Gronen, Alwina Heinz and Gisa Rosa exhibited together in mikolow, poland, where they developed the idea of participating in the nationwide project "Demokratie Leben" (living democracy) with their artist group GOJA.
To make a visible political statement we transformed the whitesell wall on the further straße into a berlin wall and team GOJA invited other guest artists (SIKK, Wasted Talents Crew, AURA, Holger Schuster) so that each artist could individually artistically represent their political opinion on democracy in germany on it.
2020 in neuss, germany
in first time collaboration with graffiti artist OLDHAUS, I visualized my personal meaning of democracy on the wall.
my main message of the graffiti is "stand up, be loud" represented by the fist and describes what for me is the most important and valuable building block of democracy: freedom of opinion.
for me, this also includes questioning and forming one's own opinion before carrying it into the public, whcih I have represented by the brain with the megaphone in the hand. furthermore, with this wall, I criticize the dangers of a surveillance state and the status of capitalism.
besides, the slogan "fight racism" has a very important meaning, even if it's sad, that is's still so needed in th 21st century.
our goal is to remind people that our democracy and the privileges that come. with it are not to be taken for granted, and that we must value and protect them.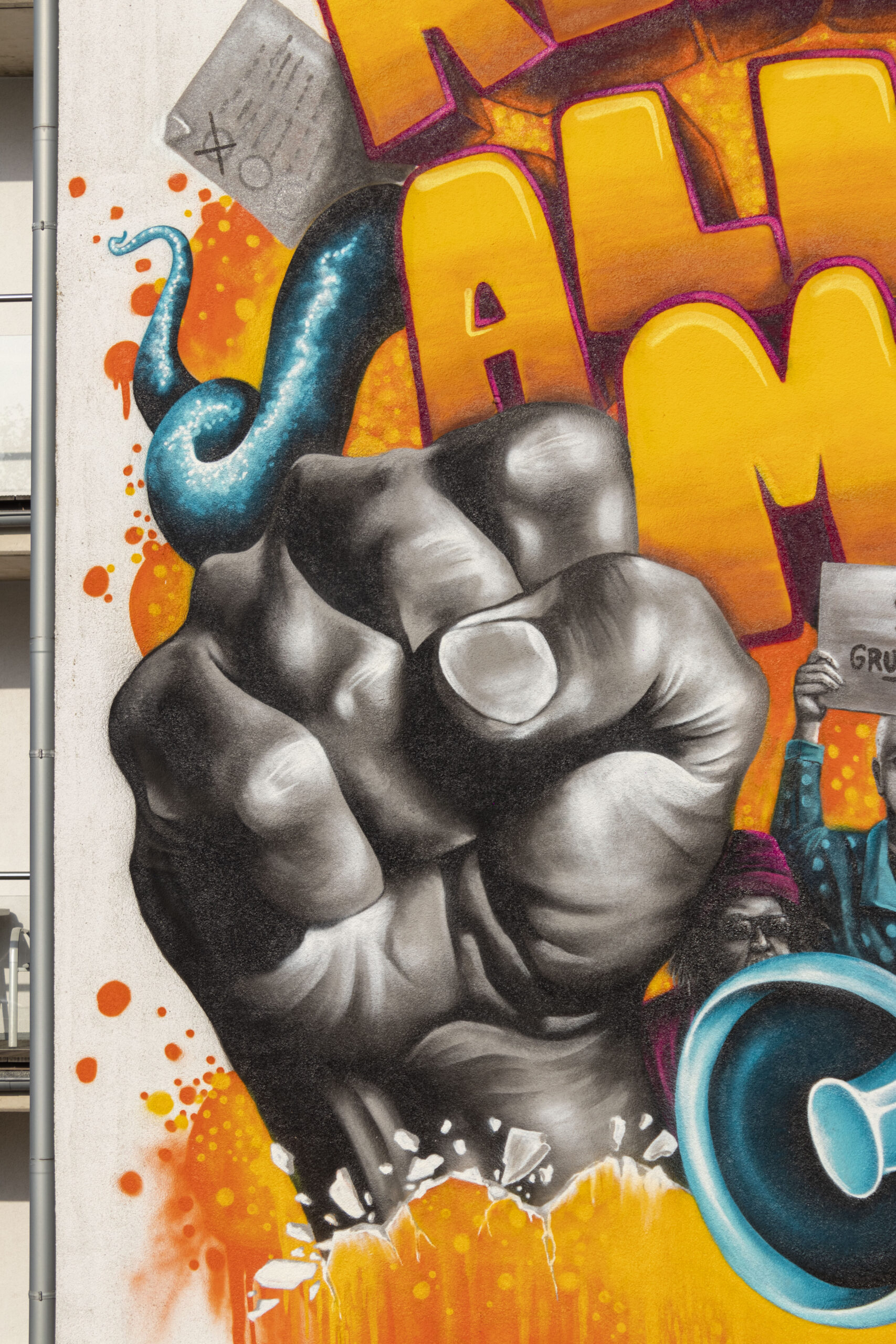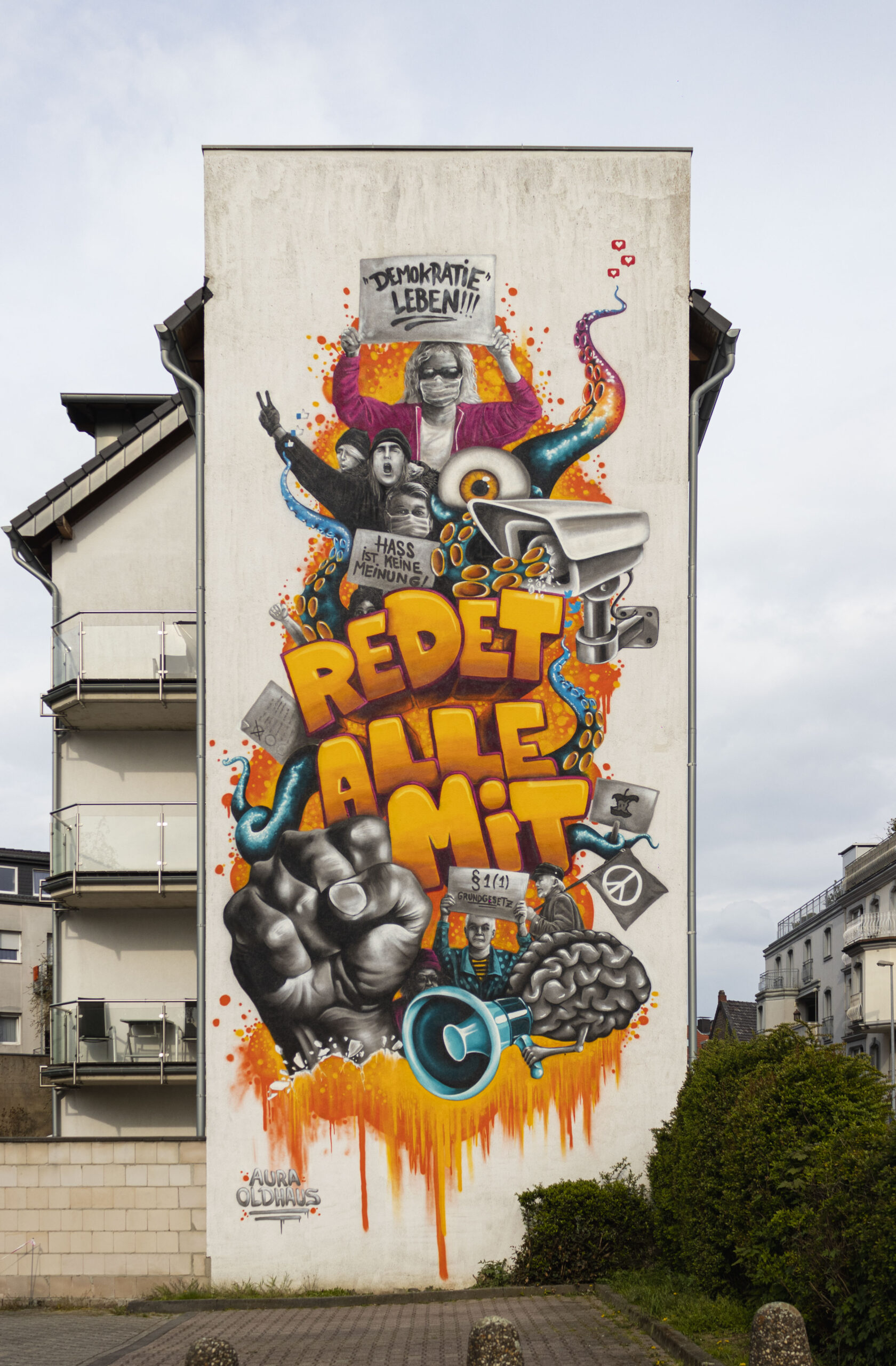 let's go BIG!
what an honor that team GOJA took me in their team 2021 and we are now called team GOJA.A!
after our project 2020 was so well recieved by the public and we all had so much fun with the implementation, it was somehow clear that it goes next year also in the next round. not only round two but also directly a number bigger, instead of 2 meters our new wall is now 13 meters high!
unfortunately, out first wall only stood for about two months before it was demolished. but this wall will stay!
following this common wall, OLDHAUS and I decided not to make a comply new design, but to paint a 2.0 version of the old wall.
this years's motto: "redet alle mit" (everybody talks). in keeping with the election year and the exhibition of the same name that team GOJA.A is organizing diagonally opposite our facade, we have chosen this slogan as the core statement for our mural.
similar to last year, we are once again focusing on freedom of speech and the appeal: brain on – mouth open!
however, we have moved our own political stance a little more into the background and concentrated on the general call for political participation. the point is to send a signal that politics is not always just left or right, but that the centre can also have a voice and should use it.
all in all we painted for abaout 6 full days and it was a lot of fun. for me personally it was also a new experience to work on such a large scale, as it is my first mural of this size.